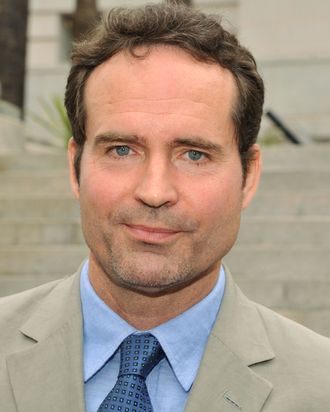 Photo: John M. Heller/Getty Images
The fathers' rights movement, an offshoot of the men's rights movement, claims to seek legal reforms that would empower men to pull their weight in child-rearing, even when marriages fail. So why do feminists hate it? Probably because some of its loudest proponents are the kind of guys you'd think twice about trusting with children.
Case in point: actor Jason Patric. The Prince star has spent the past year embroiled in one of the country's most high-profile custody battles, launching a nonprofit called Stand Up for Gus dedicated to the son he conceived through artificial insemination with ex-girlfriend Danielle Schreiber. Patric's lobbying efforts for paternal rights for sperm donors have attracted even bigger celebrity supporters like Matt Damon, Kiefer Sutherland, and Mel Gibson. Meanwhile, Gus's mother has had a domestic violence restraining order against Patric since 2013.
For the first time, Schreiber spoke at length about Patric's relationship to her and Gus with Rolling Stone. She tells Vanessa Grigoriadis that life with Patric has been a roller coaster of drunkenness, infidelity, and physical abuse since 2005, when they were still together and seeking fertility treatments. Grigoriadis writes:
She claims Patric threw a jar of almond butter at her when he found she hadn't put on the lid tight, and hit her in the face with a land-line phone, causing contusions and bruises that lasted more than a week.
After the couple broke up in 2008, Schreiber planned to use a stranger's sperm to become a single parent, until Patric sent a 29-page handwritten letter urging her to use the sperm of his they'd banked, despite not knowing whether he ever personally wanted to be a father. Even when Schreiber and Patric briefly rekindled their relationship after Gus was born, Patric was "furious" at Schreiber's suggestion they tell Gus that Patric was his father.
"He said, 'You promised that you would keep it a secret, and this is you going back on and violating a fundamental trust.' I was subjected to a huge amount of verbal abuse, yelling and anger because of that."
After breaking up for good, Patric did a 180, made some PSAs, and was granted partial custody, Grigoriadis writes. Meanwhile, Gus would reportedly return home from Patric's house saying things like "Mommy has a stinky vagina," and "This isn't my house," and "Mommy is mean"; and Patric allegedly threatened a platonic male friend of Schreiber's. What more rights, exactly, should we give this guy?
Legal scholars say family courts have changed drastically over the past 40 years to recognize women and men as mutual breadwinners and parents, according to Slate's Hanna Rosin. Because of changing mating norms and reproductive technology, unprecedented issues like Schreiber and Patric's crop up, but Rosin says the courts tend to be good at dealing with them, especially when the parties involved are wealthy and lawyered up. The same does not hold true for poor parents, who, without expensive legal representation or steady employment, fail to make child support payments and end up incarcerated or permanently indebted.
Those people desperately need a fathers' rights movements — and they deserve a better spokesperson than Patric. In Rolling Stone's account, he embodies the stereotype of the obsessive manipulator, willing to use the the legal system to harass and control his ex — or, at the very least, willing to spend years of his child's life wrapped up in contentious litigation. I'm reminded of the son of a fathers' rights activist featured in Michael Kimmel's book Angry White Men. He told a custody evaluator, his "dad didn't spend a lot of time with him 'because he's always busy working on his fathers' organization.'"