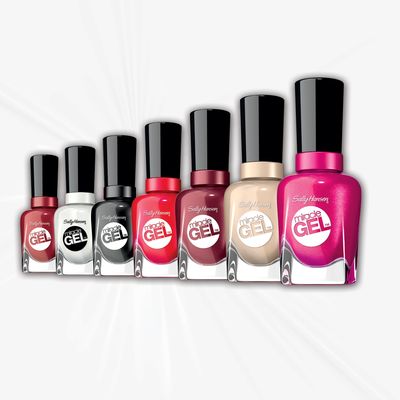 Photo: COTY?2014 ALL RIGHTS RESERVED
"Look, Ma, no lights" should be the tagline of Sally Hansen's new Miracle Gel nail polish. More accurately, it should be "Look, Ma, no lights or awkward polish-remover process." Welcome to 21st-century nail technology.
Miracle Gel is Sally Hansen's version of the at-home gel manicure — it does away with the clunky UV light and acetone-pool removal process, and replaces it with two simple bottles of nail polish.
One bottle serves as the color coat, the other as the gel. With the help of Tracylee, Sally Hansen's nail ambassador, I chose from over 30 shades to select a pretty purple-beige called All Chalked Up for my fingers and, for my toes, a pastel blue that recalled Hard Candy circa 2000 called Tea Party. True to Sally Hansen form, the polish's brush was generously shaped, so only a few swipes were needed to coat the nail. Compared to traditional polishes, the color coat was a little more watery. With the initial coat, I was worried the color was going to be streaky. With the second, the color began to fill out more. Although the directions suggest two coats, three coats was the Goldilocks-ean amount for perfect color. Note that a base coat is not needed for Miracle Gel; you apply the color coat directly to the nail. 
The gel top coat acted like a regular top coat, except that it dried miraculously quickly. "Stop touching it!" Tracylee gently admonished me, because I kept trying to validate that the manicure was intact. Miracle Gel promises up to 14 days of long-lasting color, and this turned out to be largely true. Five days later, my nails were still chip-free. Seven days in, there was slight chipping around the tips. Twelve days in, the color remained pretty concentrated, although there were slight chips on each nail. I easily removed my manicure with nail-polish remover. As for my toes, the color remained chip-free for three weeks. Beauty miracles can come true.