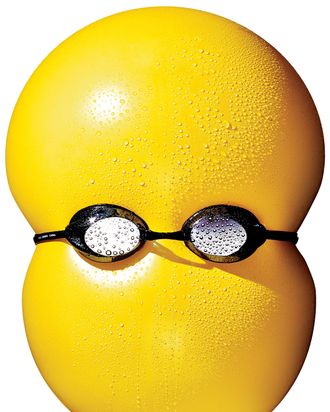 Photo: Bobby Doherty/New York Magazine
The goal: Find the ideal swim goggles for laps at the Y and bobbing on your back in Montauk. We spoke to swim-supply stores across the region, coaches (including NYU's head ladies' coach), and one Olympic freestyle gold-medalist. Collectively, they steered us toward a happy medium between high-speed (and under-eye-bruising) Swedish goggles and the soft-frame, leak-prone leisure styles that sacrifice fit for cushiness.

The verdict: Grandma's water-aerobics goggles these are not. But the mirrored Speedo Vanquishers (from $20 at Modell's, 234 W. 42nd St., nr. Eighth Ave.; 212-764-7030), while designed to have the socket-nestling security of racing goggles, are still comfortable enough for the casual swimmer. They can be acutely adjusted thanks to four interchangeable nose bridges, and the silicone straps clasp at the back, rather than flapping distractingly at the temples. Factor in the anti-glare, UV-protected lenses, and this just might be the summer you perfect your backstroke.