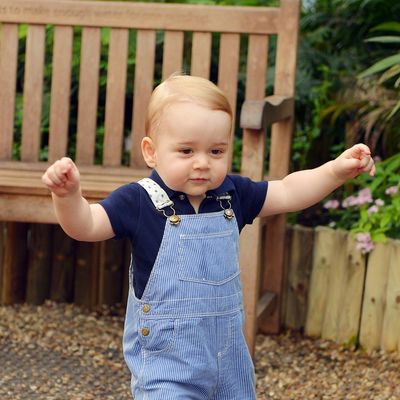 Photo: JOHN STILLWELL/Getty Images
The Daily Mail, caption-contest newspaper of record, has been carefully and diligently following the 365 days of life that have occupied baby Prince George of Cambridge. During this year, the publication produced some of the most glorious descriptions of expression, action, drama, and comedy — all regarding the times of this wee fancy child.
Here are their best efforts:
31. Intrigued: Prince George is greeted with flowers and looks most perplexed as he examines them.
The Daily Mail points out that flowers are a foolish gift for a baby. The baby knows this, you know this — this caption just confirms.
30. 'He does love it honestly,' said William as his son threw the toy bilby on the floor. 
Lies.
29. I'm bored now: After a few moments he throws it to the ground.
The Daily Mail would like to be the primary source for articles about items that make ground contact, via a royal hurl. They have no competitors as of yet.
28. George revealed himself to be a calm, extremely sociable and very self-confident baby.
Calm and extremely sociable: What can't this baby be?
27. George seemed to have a very close bond with his doting mother.
Seemed? Has their relationship fallen apart? As of writing, are they estranged? Subtle verb choices in action.
26. Perfect pouter - jutting bottom lip suggests he's going to be good at getting what he wants.
Because of the circumstances of his birth, this will likely be a useless trait.
25. History: As his father was before him, George's birth was registered by Westminster City Council.
That is how history works, one thing after another. Great job writing!
24. Can't copy this one: One of the few outfits not to sell out, if only because it is unique, Prince George's Victorian style lace Christening gown did spark a wave of imitations.
One can't replicate a thing that is unique, that remains categorically true.
23. Intrigued: A curious Prince George investigates a long-handled mallet which lays next to him in the grounds of Cirencester Park.
The Daily Mail investigates a baby's investigation.
22. George is still a little too young to be talking with most babies speaking at 12 months, however with his parents encouragement his first word may not be too far off.
No one knows anything.
20. Prince George looks a little glum and grumpy at the prospect of meeting more dignitaries.
Who wouldn't, though?
19. Gentle: The trio take their first steps together into the outside world together as the prince starts his life.
No conjecture here!
18. According to his parents he has a fine set of lungs on him, makes bath-time "quite painful" but adores his "best buddy", Lupo the spaniel.
Best friends from different species: such a thing right now.
17. Impersonating a star fish and pulling his best 'threatening and fierce' face was still not enough to get him out of the welcome line.
Baby's first impersonation!
16. In one of two new photographs issued, Prince George can be seen pointing and gazing intently at the delicate creature which has landed on his father's hand.
That delicate creature was a butterfly.
15. The Duke and Duchess of Cambridge seem keen to get their son talking.
Does he know something? Does he have organized-crime ties?
14. First royal wave: Prince George Alexander Louis of Cambridge was born at 4.24pm, weighing a healthy 8lb 6oz. George arrived at the same Paddington Hospital that his father, Prince William, was delivered at 31 years earlier.
The Daily Mail saved all its information for one caption, which is this one.
13. Many of the internet gifs and memes that have sprung up focus on the little prince's now famous sneer, with captions such as 'Away from me you peasant!'.
Just a caption about GIFs below a still image. Good use of the internet.
12. That's better: Mr Middleton's second photo produces much more appealing results, with the couple and their sleeping prince emerging from the blinding sunlight.
No place like the scorching sun to test a young man's mettle.
11. According to his parents, George is already 'racing around and opening doors' at their Kensington Palace apartment.
Metaphorical doors? We're left wondering.
10. The expressive Prince shows unadulterated joy at a simple wooden toy during a playgroup with ten lucky babies at Government House in Wellington.
Unadulterated joy? George is a party prince, already. Someone get this kid a wholesome hobby!
9. Prince George gives a nearby spectator a rather menacing look while safe in the arms of his mother on his visit to Taronga Zoo.
Shade, planted.
8. Not impressed: The little Prince did not look happy as Kate said farewell to Australia's Prime Minister.
Rousing some diplomatic drama? Nothing is out of the question for a Prince George caption.
7. Caught between wide-eyed amazement and looking gormless, the young prince pauses to enjoy a calming chew.
Sometimes, there is a duality in expression. We are not one thing, even in one moment. The Daily Mail encourages you to look closer.
6. Looking good! The young Royal, Prince George has been scored 5.5 out of 10 in 'attractiveness' by Anaface, a higher number than both his father and grandfather.
This is a hard lesson, but the Daily Mail isn't afraid to teach it: you will be judged on your appearance, you will be given a number out of the number 10 for such a thing. It's never to early to assign these metrics.
5. Happy to be here, George? The Prince wore a cream cardigan over a white shirt, matching shorts and soft leather shoes and socks - ideal for a baby who had just started crawling.
That's really sweet, to ask that question. What kind souls.
4. Cry baby: He's bound to break a few hearts when he's older, but no one expected Prince George to get off to such an early start. Undertaking his first ever official engagement, the future king managed to reduce a young girl to tears by unwittingly making a grab at her arm.
Way to set up some expectations about future lady-killer qualities! Never not thinking into the future, this paper.
3. Can you tell the difference between little Freddie (left) and Prince George?
We can. Two different babies. Thank you for building confidence, Daily Mail, with your simple facial-recognition queries.
2. The jury is out on weather [sic] this is a look of exasperation, dismay or contempt.
The news group should be applauded for daring to publish a query. Sometimes it's bravest to just admit that you don't know all the answers, but you're curious and thoughtful and willing to learn.
1. Shocked: The adorable eight month old appeared quite taken aback as a gust of wind blew through his hair. 
The best Daily Mail caption in this whole series: drama, weather, unexpected conflict, emotion. It's perfect.