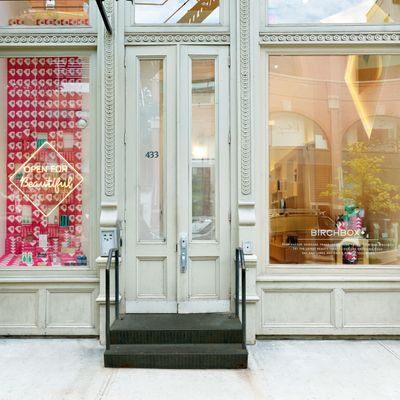 Photo: Kent Rogowski/Courtesy of Birchbox
Before they launched Birchbox in 2010, Katia Beauchamp and Hayley Barna found it difficult to shop for beauty products online. They felt it was impossible to know if a bronzer would turn you pumpkin-orange without dabbing it on your hand first, and that toggling between 20 nearly identical thumbnails of liquid eyeliner was futile. So, they conceived an Avon-Lady-of-the-Internet approach: With an online beauty profile and for $10 a month, Birchbox members get a custom handful of beauty samples, monthly, in the mail. Needless to say, it's been a runaway hit. The company has over 800,000 members to date, and in April, Fortune reported its estimated value to be $485 million. Today, Birchbox takes hands-on shopping a step further — by opening its first physical store in Soho.
In the store, Beauchamp and Barna have sought to dismiss the traditional brick-and-mortar approach to beauty. Instead of arranging products by brand, they chose to sort them by category, with entire sections of the shop dedicated to "Cheek" or "Lip" or "Brow." Beauchamp is blunt about the appeal: "The reality is that 95 percent of all beauty products sold are still purchased offline. That means we send a lot of our customers offline, to shop," presumably at Birchbox competitors.
Based on the hunch that non-beauty-obsessed women don't want to subject themselves to the black-and-chrome displays and the migraine-inducing club beats of most beauty stores ("Our customer is not beauty-obsessed. She's beauty now-curious," says Beauchamp), the gleaming West Broadway shop thrums to a soundtrack that features Coldplay; there are exposed, whitewashed bricks, and blond wooden floorboards. More than 200 brands are represented, with products stocked in neat rows. Men's products, including Baxter of California and Proraso, are tucked away down a flight of stairs, and lifestyle products are sprinkled throughout — a decision, as Barna puts it, based on the idea that non-beauty products make the beauty newbie feel more comfortable. (Makeup is placed, for example, between chevron iPhone cases, Jack Robie pocket squares, and even elephant-shaped salt-and-pepper shakers from Jonathan Adler.)
But the Soho flagship is aiming to do more than just up its full-size sales. Words like lab and incubator get thrown around a lot, and it's clear that Birchbox is trying to refine its understanding of what products its customers clamor for, and which ones gather dust. Beauchamp compares the for-dummies product presentation to the e-shop: Strolling over to the "Cheek" shelf, where all of the blush options are set out in a neat row, is like clicking "Cheek" in a drop-down menu. 
At any given time, the floor is staffed by dozens of eager helpers, but for those who prefer digital advice to the human sort, there's the massive, touch-screen product-matcher that simulates the algorithm Birchbox uses to send users their monthly samples: Select your style (Adventurous? Easy-going?), hair-type (Kinky? Dry?), skin hang-up (Acne? Aging?), and the machine will pull up a personal shopping list.
Out of all of these elements, the "Build Your Own Box" station at the back of the first floor is Beauchamp and Barna's least subtle effort to bridge virtual and in-real-life shopping. From under a cheeky, light-bulb-studded BYOB sign, I was urged to grab a menu, pick a box color (camel, over white or pink), and build my own Birchbox, buffet-style, with the aid of a gleeful assistant who had an anecdote for each mini sample. I found this to be fun, despite myself, and the candy-shop thrill was just about worth the $15.
Downstairs, I was ushered into a white, pleather swivel chair in the mini, windowless hair salon. Over my left shoulder, a manicure station offered polish for $10, with additional nail art for twice that. An iPad was immediately placed into my hands, and I swiped through a menu of four on-trend styles. Since a curly blowout seemed slightly ridiculous for a weekday morning, I settled on what I perceived to be a casual fishtail side-braid.
The hairdresser nodded approvingly, assured me that this messy style was one of Blake Lively's red-carpet staples, and whipped out the $30 service in less than five minutes. Two bloggers in line behind me asked for the same, and while I'm not sure that the braid was worth the price tag (the finished product was so messy that entire chunks of it fell out in a mild breeze), I have no doubt that my 12-year-old self would have been thrilled by the pampering. 
Birchbox opens today, at 433 West Broadway (646-589-8500). Prices start at $5 for lip balm.