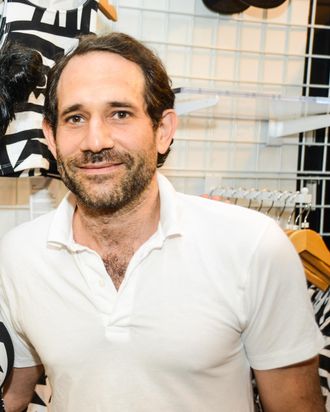 Photo: Carly Otness/BFAnyc.com/BFA NYC
Despite the public perception that fashion possesses telenovela-esque levels of drama, most fashion-company negotiations would make for tedious entertainment. But this one has enough intrigue for a potboiler of the TV-movie variety, at least. The villain: ousted American Apparel CEO Dov Charney, complete with a literal mustache to twirl. After speaking out about his firing ("I will be back in my office before long" was a choice line) and threatening to sue AA, Charney has steadily increased his stake in the company from 27 percent to, now, a whopping 43 percent, according to the New York Times' business section. With sleazy, Robin Thicke–like persistence, he is trying to #GetAABack.
According to several financial experts consulted by the Times, the plan might actually pan out. If Charney can raise his stake to 50 percent, he can exert some real power over the company (he reportedly wants to expand the company's board of directors to include more pro-Charney members). Charney also has a good relationship with one of the brand's main backers, Lion Capital, which represents two board seats. But since AA's board issued a so-called "poison-pill defense" — which, again, sounds like something from a movie — to prevent a company takeover, Charney could wind up in court if he attempts a power play. Observed law scholar Charles Elson, "This would be a great law-school exam because there's so much in this thing." So much!