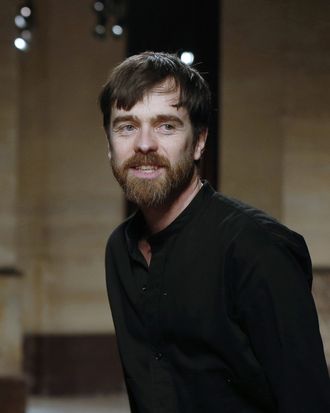 Photo: Francois Guillot/AFP/Getty Images
After four years with the luxury house, Christophe Lemaire is leaving Hermès. Women's Wear Daily reports that his upcoming spring-summer 2015 collection for the label will be his last. While at Hermès, Lemaire — who had previously served as artistic director of Lacoste — designed many critically acclaimed collections, and seems to have led the company to financial gain as well (its revenues were up 15.8 percent in the first quarter of 2014). 




Lemaire's comments seemed to indicate that he's leaving to focus on his eponymous label. Said the designer, "Working for Hermès has been a great pleasure: a profoundly enriching experience on both a human and professional level. I am proud of what we have built together. My own label is growing in an important way and I now really want and need to dedicate myself to it fully."

CEO Axel Dumas added, "I am very grateful to Christophe for the passion with which he has addressed and enriched the expression of our house in women's ready-to-wear. Under his artistic direction the métier has renewed its aesthetic and produced very satisfactory financial results."

Things sound fairly amicable between the two. Bets on his successor start now.