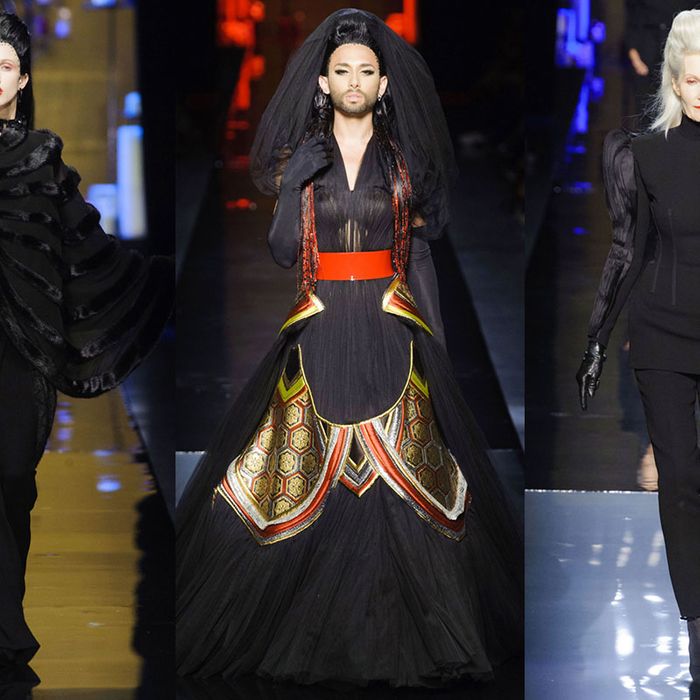 PARIS — The crowd was so enormous outside the Jean Paul Gaultier show today that police were called to keep the peace. But inside the venue was mayhem, too. Gaultier's shows can seem like the dress rehearsal of a stage production: relaxed, and a little chaotic — but it's fun just the same.
The "fun" factor during Fashion Week is not so easy to come by. The schedule is full of impressive, but often austere, presentations — and, by contrast, Gaultier's show always feels like an off-schedule throwdown with flutes of Champagne and attendees whooping at the models as they make their way down the catwalk. I imagine that the models have fun, too — especially  the 56-year-old Catherine Loewe, who opened today's show and tumbled not once but three times before ditching her heels altogether. Rather than being awkward about the whole thing, she proudly rose to her feet each time while everyone cheered her on. An appearance by Pat Cleveland's daughter Anna got everyone excited as well, but the loudest applause was reserved for this year's Eurovision winner, Conchita Wurst, who closed the show as a bearded bride in a black wedding dress. As ever, the cast was a motley crew.
Gaultier has always been inspired by bold characters — and this season his muse was a vampire, with blood-red eyes and lips and towering hairpieces. The designer bestowed each look with a thematic name: the Black Dahlia, Dorian Gray, Carrie … he thought up 50 in total and probably had a ball while doing so. Fashion-wise, there was a lot going on — Swarovski-beaded evening gowns, lamé suits, slinky harem-style jumpsuits, hoods, veils, fur trims, and tassels. These vampires were definitely over-the-top — and while some would argue it got a little too gaudy, Paris's former enfant terrible would likely say that that was the point.