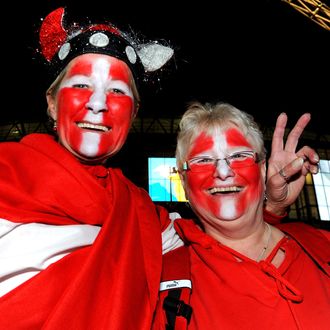 Photo: Steve Bardens - The FA/2014 The FA
About a year ago, I got to spend a few days in Copenhagen. It was an insanely cool city (I know it's a cliché, but man do they love bikes over there!), and what was most striking was the people: They all just looked so ridiculously happy and healthy and alive. And beautiful. And they all spoke better English than I do.
Researchers at the University of Warwick think they've partially unraveled the reason for Danes' annoying apparent superiority over the frequently puffy and miserable rest of the world.
The happiness part, at least:
Genetics could be the key to explaining nation's levels of happiness, according to research from the University of Warwick.

Economists at the University's Centre for Competitive Advantage in the Global Economy (CAGE) have looked at why certain countries top the world happiness rankings. In particular they have found the closer a nation is to the genetic makeup of Denmark, the happier that country is. The research could help to solve the puzzle of why a country like Denmark so regularly tops the world happiness rankings.

Dr Eugenio Proto and Professor Andrew Oswald found three forms of evidence for a link between genetic makeup and a nation's happiness.

Firstly they used data on 131 countries from a number of international surveys including the Gallup World Poll, World Value Survey and the European Quality of Life Surveys. The researchers linked cross-national data on genetic distance and well-being.

Dr Proto said: "The results were surprising, we found that the greater a nation's genetic distance from Denmark, the lower the reported wellbeing of that nation. Our research adjusts for many other influences including Gross Domestic Product, culture, religion and the strength of the welfare state and geography.
At least we'll always have our world-beating fast-food innovation, Americans.