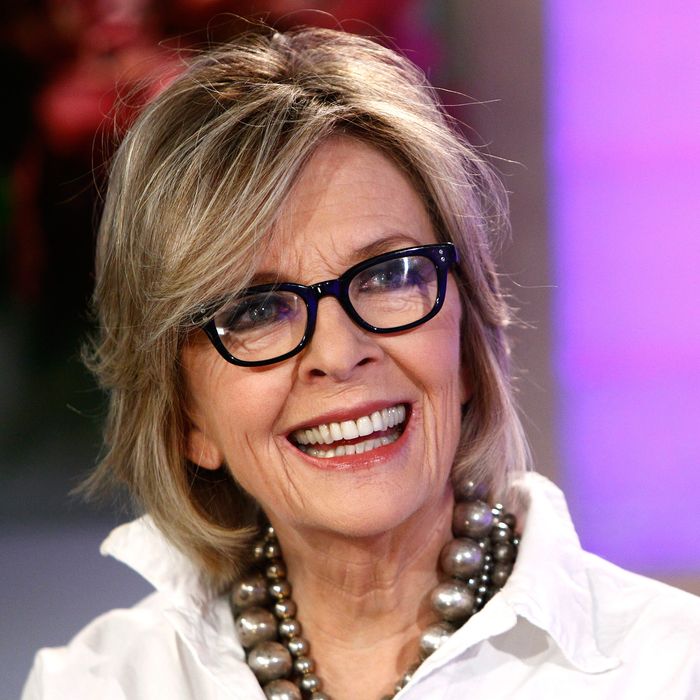 Photo: Peter Kramer/NBC/Getty Images
Diane Keaton, the 68-year-old actress, respected Twitter user, and tag-sale maven, could easily add a new job description to her résumé: hair blogger.
Known for a messy bob and side-bangs combo, Keaton has recently been very passionate on Pinterest and Twitter about the subject of hair. From the looks of it, she seems quite fascinated with punky half-shaves and elaborate up-dos. "I don't think i'd be able to pull this off, but i'd like to try," she tweeted yesterday, along with a picture of a back-shave. (And, interestingly, a shaved head with a leopard-print dye job reminds her of a chapter in her book called "Bad Hair Days.")
A visit to her largely monochromatic Pinterest reveals further thoughts on all things hair. Her "Hair Daze" board indicates an extensive curiosity about up-dos, braids, and bangs, particularly the ones belonging to Kate Moss. She seems open and eager to learn more about hairstyling, inviting her Twitter followers to share their own "good/bad/wonderful/wacky hair days." When it comes to summer styling, she's still stumped. "How do you get beach waves?" she asks under a picture pinned from Garance Doré's blog. Diane, if you want to be the Cut's new hair blogger, just let us know.