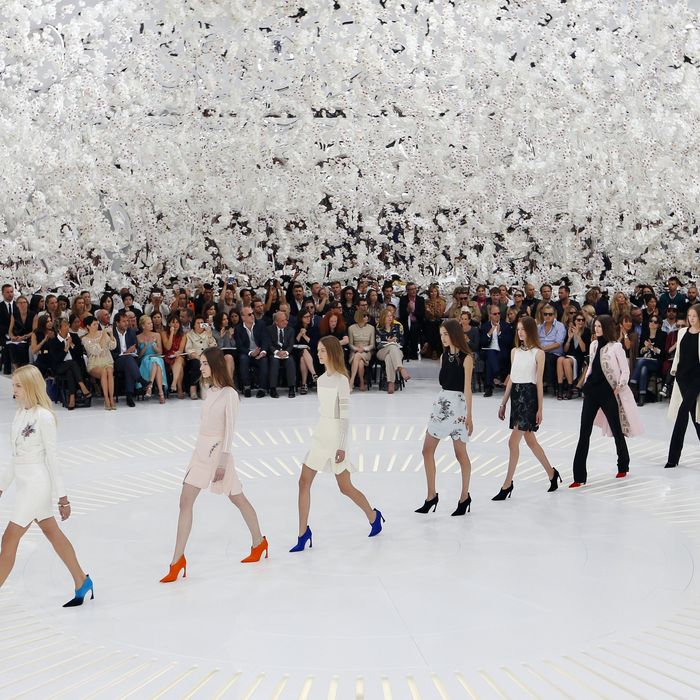 Photo: FRANCOIS GUILLOT/Getty Images
No, that's not a typo: 150,000 orchids lined the runway at Dior's couture show in Paris today. The fashion world's flower of choice (editors are known to have at least one on their desks, in various stages of mortality) made an interesting starting point for a show that, while including some floral motifs, was supremely un-flowery in its outlook. "My dream is to save women from nature," Christian Dior said when introducing the New Look, with its restrictive wasp-waisted, Bar-jacketed silhouette, in the '40s. Raf Simons did the opposite, embracing all things natural with a series of relaxed silhouettes. After all, when couture shows feature sneakers and fashion people have fallen for the almighty Birkenstock, it's hard not to let that craving for comfort trickle up to even the realm of haute couture.
A dream cast of models, including Liya Kebede, spun around in bell-skirted white gowns that managed to avoid any debutante associations. (Oh-so-practical pockets helped with that effect. J.Law might even be able to skip in them.) Slowly, the show ceded to the more wearable looks: sharply cut cape coats and kantha jackets paired with relaxed trousers. And during a week where luxury ateliers practically compete to see who can beat the seed-pearls-per-inch record, the craftsmanship was beautifully restrained — for example, on a bright-blue slip of a dress with arrowlike embroideries, or a series of looks with subtle floral accents. Perhaps in a climate where looking like you didn't try too hard is the ultimate goal, even those who order their clothes made-to-measure at astronomical prices don't want to push the froufrou envelope. (Call it the Philo effect.) Which begs the question: Is bourgeois dressing the new rebellion?