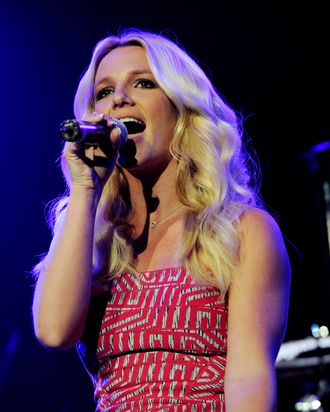 Photo: Kevin Winter/Getty Images
Le Monde, the newspaper of record for le French, has just published an exposé on the American phenomenon of "vocal fry." They are calling it "The Voice of America" ("La voix de l'Amérique"), and they have managed to make it more cultured, sexier, and sophisticated than we have ever been able to do. Bless the French for this gift of adding those qualities to all that they discuss.
Writer Stephanie Chayet is quick to defend this affectation as not just something for the cheesy pop singers (Britney Spears, Katy Perry, and Kesha are all cited), but something that started as early as when Mae West got her hard-flirt on and asked a dude to come up and see her sometime. Notable, serious-minded person Henry Kissinger also gets a mention.
And of course, even the term for vocal fry sounds better in French. The way it's described — grésillement, which is like crackling or sizzling — sounds like a very sexy thing to have going on, doesn't it? Crackle on, America. The French approve.