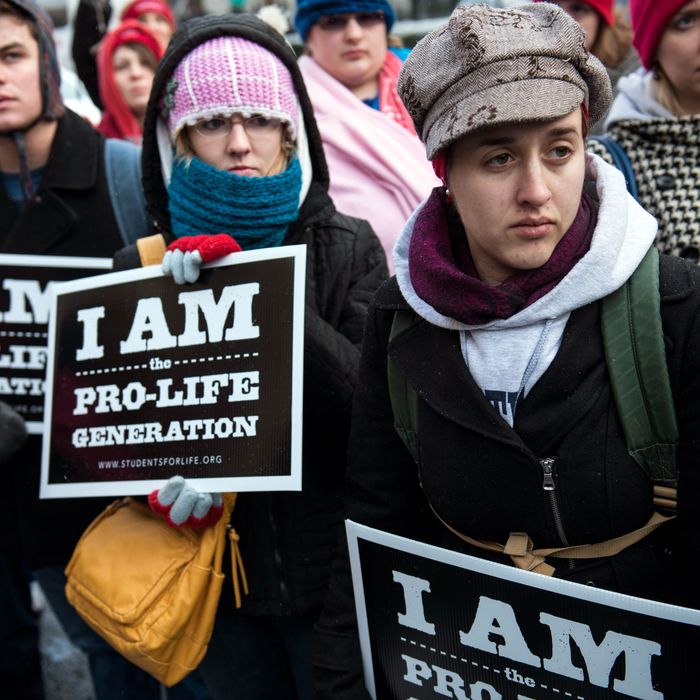 Photo: BRENDAN SMIALOWSKI/AFP/Getty Images
Republicans have three new strategies for avoiding another disastrous "war on women" fiasco in the midterm elections, the New York Times reports. None of the strategies is "rethinking our whole stance on abortion rights."
Don't talk about abortion.
At the spring meeting of the Republican National Committee, conservative women trained legislators to say as little as possible when pressed about abortion. "Two sentences is really the goal," said Marjorie Dannenfelser, the president of the anti-abortion group Susan B. Anthony List. "Then stop talking." And never, ever say rape, said Republican women's issues pollster Kellyanne Conway. "'Rape' is a four-letter word … Purge it from your lexicon." Presumably the "rape exemptions" Republicans add to abortion legislation will get a new euphemism.
Have women talk about abortion.
A report on the 2012 Republican losses by the American Principles in Action group concluded: "Our self-mute strategy permits the Democrats to frame the issue on their own terms." The RNC's own assessment said, "We must change our tone." Enter, female Republicans. "The best way to talk about the life issue is to have female candidates talk about it," said Republican congressional candidate Elise Stefanik. But there just aren't that many pro-life female politicians, so the Susan B. Anthony List super PAC will spend $3 million on commercials featuring women, including the mothers of extremely premature babies.
Make Democrats talk about abortion, too.
What if it's not the GOP abortion stance that makes people so mad, but just the general unpleasantness of talking about abortion? "Put them on their heels," said former Congresswoman Marilyn Musgrave, a longtime anti-abortion activist. "Ask them: 'Exactly when in a pregnancy do you think abortion should be banned?'" The right answer here, by the way: Abortion should be legal up until viability, meaning the point at which the fetus could survive outside the uterus (usually considered to be 24 weeks), as decided in Roe v. Wade.
Look out for these strategies in Senate races in Arkansas, Louisiana, and North Carolina.