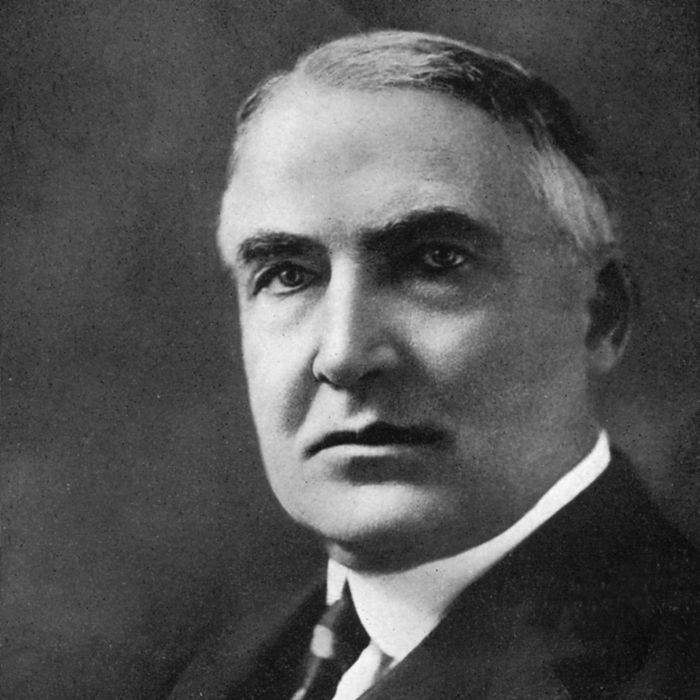 Photo: Print Collector/Getty Images
A former leader of our nation — a nation of modest people and simple words — wrote some erotic love letters to his mistress. These missives and poems have been uncovered, and our nation blushes.
Mr. Warren G. Harding was the 29th president of the United States and forerunner of slinky Long Beach rapper Warren G. The OG Warren G. was in love with Carrie Fulton Phillips (decidedly not his wife), and his smoldering passion manifested itself in some exceedingly purple poetry. This poetry is so sensual that it will perhaps be incomprehensible to innocent modern readers, who might never before have connected these images and thoughts in their minds.
Here is a careful selection, beginning with a poem that no one is old enough or mature enough or jaded enough to read:
I love your poise

Of perfect thighs

When they hold me

in paradise …

I love the rose

Your garden grows

Love seashell pink

That over it glows

I love to suck

Your breath away

I love to cling —

There long to stay …

I love you garb'd

But naked more

Love your beauty

To thus adore …

I love you when

You open eyes

And mouth and arms

And cradling thighs …

If I had you today, I'd kiss and

fondle you into my arms and

hold you there until you said,

'Warren, oh, Warren,' in a

benediction of blissful joy … . I

rather like that encore

discovered in Montreal.

Did you?
Never before has a United States president mixed a metaphor about seashells and roses to such monumental effect. When Harding writes of Montreal, he references an evening at the later edge of 1912. Harding and Phillips had sexual congress at the stroke of midnight on New Year's Eve. It was perhaps the best coital experience anyone ever had, as Harding could not stop citing it.
I stopped play to have sandwiches and crack a bottle of wine, so I could dwell with my thoughts. You can guess where they centered — on the New Year's beginning a year before, when the bell rang the chorus while our hearts sang the rapture without words and we greeted the New Year from the hallowed heights of heaven …
Nothing like a sandwich to Proust yourself into the moment of cheesily timed sex.
And I wanted to sit before the fire afterward, in freedom of dress, and dream of you and of loving you, intimately, until [illegible]. I like to dream in loose, flowing garb, because I can dream more intently.
Praise be for that "[illegible]" aspect of this letter, for truly it's metaphorically past our bedtime, as a nation. We must retire from the public eye to quell these blushes in private.