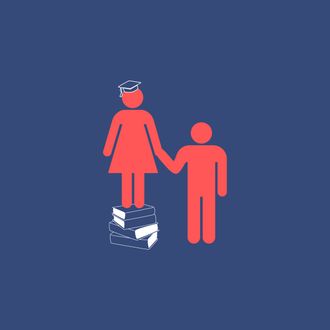 Good news for women interested in #havingitall: New research shows that women who are more highly educated than their husbands are not at higher risk for divorce, reversing a decades-old trend. The paper, published online last week in American Sociological Review, takes a look at (heterosexual) couples who married in the 1950s through the first decade of the new millennium, and found that the tendency for couples in which the wife had more education to split up actually disappeared in the 1990s.
The reason? It's likely because it's now much more normal for women to earn more degrees than men, argues lead study author Christine Schwartz, a sociologist at the University of Wisconsin-Madison. About two decades ago, as part of a decades-long trend of increasing levels of higher education for both genders, women started outpacing men in earning college degrees. Most recently, a Pew report showed that 45 percent of women ages 18 to 24 were enrolled in college, compared to 38 percent of women; among those 25 to 32, 31 percent of men and 38 percent of men had a bachelor's degree. 
Mirroring that trend, this new research showed that in 60 percent of couples who married between 2005 and 2009, the wives were more educated than their husbands; in the 1950s, this was true for just 35 percent of couples.
The researchers also found some evidence to suggest that egalitarian unions may be stronger. Couples who shared the same level of education and married in the early 2000s were about 30 percent less likely to divorce than couples with a husband who had more education.
Schwartz did offer a couple of alternate explanations for her findings: First, it may be that the types of people today who enter into marriages in which the wives are more educated are less divorce-prone to begin with, Schwartz told Science of Us. And in years past, it was unusual for women to be more highly educated than men, which means that it could've been more nontraditional couples forming those relationships — that is, couples who are more likely to get divorced anyway.
But overall, she said, "Our results speak against fears, long-standing fears, that women's higher success and education have negative consequences for negative marriage stability." Hang those degrees in your love nest with pride, ladies; smarts and domestic bliss can and do co-exist.