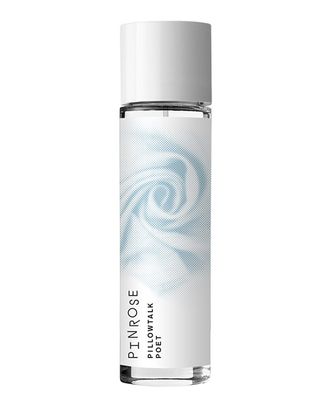 Photo: Courtesy of Pinrose
To shop for fragrance nowadays, you either need a pastry degree or a Ph.D. in scent. These are the only people equipped to possibly understand listed scent notes like orange éclair accord and "tears of belladonna" (the latter is a real top note from Lady Gaga's Fame perfume). Stanford Business School graduates Erika Shumate and Christine Luby's fragrance start-up Pinrose advises you to ignore all of that. Toss away the descriptions of top notes and get to the heart of what really matters, smelling things you do and don't like.
With a personality quiz, Pinrose matches you to one of its ten in-house scents, created from famed scent houses like Firmenich and Symrise. The quiz is easy. Pick shapes, color schemes, and sounds you like and Pinrose will suggest three different perfumes for you to try. Since we have yet to have internet Smell-o-vision, most fragrance ads lob lofty-sounding adjectives at consumers. There is no subtlety in scent marketing; it's always about addressing powerful, confident, sexy women (I guess women who don't feel confident or powerful 100 percent of the time are just fragrance-free). Pinrose's descriptions are blessedly simple, listing two simple notes and a few sentences evoking what the scent should make you feel. Should you like more woodsy notes, there's Campfire Rebel. If you want a more beachy scent, there's Surf Siren. There is also a full listing of notes for people who are more scent advanced.
I like balanced scents that are a blend of masculine and feminine, and aren't too powdery, and Pinrose led me to Pillowtalk Poet. It smells like laundry detergent and musk, like being clean without a scrubbed-clean feeling. In addition to selling full-size bottles of their scents, Pinrose also sells Petal Packs, which are moistened scent towelettes that allow you to experiment with applying the scent to your own skin.
Pillowtalk Poet, $50 at Pinrose.com