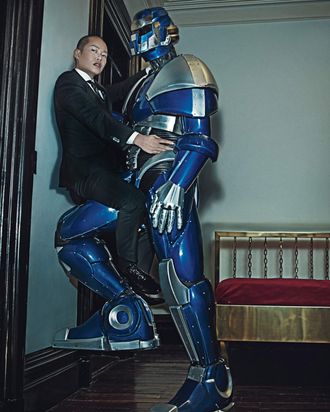 Photo: Steven Klein exclusively for W
Jason Wu knows he has one of those faces. "I'm still very naive-looking, aren't I?" the 31-year-old designer asks writer David Amsden in his W profile, out now as part of the magazine's August issue." I think when I first started here, a lot of people were thinking, Does this kid know what he's doing?" Here is Hugo Boss, where Wu was appointed as artistic director a little over a year ago. In the accompanying photo spread, shot by Steven Klein, Wu has sly fun with his goody-two-shoes image, posing provocatively with a robot.
Wu also reveals that he hand-delivered Michelle Obama's inauguration dress, and in the ensuing publicity surrounding the dress, he turned down TV and endorsement deals to focus on his brand. "Let's not forget: I work. It isn't like I came on the scene for two days and got appointed by the First Lady. I worked very hard for three years largely unacknowledged, not nearly as hyped as many of my peers. When the opportunity came about, I fought tooth and nail to get it." Young designers, let that be a lesson to you: Work hard and you just might be able to snuggle up with a robot in W.