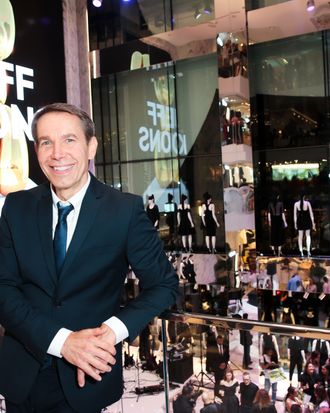 Photo: David X Prutting/BFAnyc.com/BFA NYC
Jeff Koons knows you're taking dead-eyed selfies into the large, reflective surfaces of his sculptures at the Whitney. He knows that you're hashtagging them  (#metallic, #art, #dope, #nyc) and that they're — Kara Walker's Sugar Baby aside — the trendiest selfies of summer.
And he's totally happy about it. "I think it's wonderful," he told the Cut at the opening of H&M's Fifth Avenue flagship last night, which celebrated the $50 limited-edition "balloon-dog" bag he's created for the store. "Because what's really great about art is where art happens is inside the viewer. That's why I work with a reflective surface, so that the viewer realizes that they're a very important element and the work can't become art until it happens inside them."
Or, as a great art historian once said,  One second I'm a Koons, then suddenly the Koons is me.