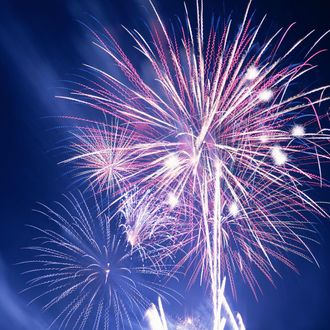 Photo: 68/Morey Milbradt/Corbis
You are going to be hearing a lot of loud, concussive noises over the next few days, whether or not fireworks are legal where you live. For most of us, these explosions may be an occasional annoyance, but overall are part of the fun and spirit of Independence Day celebrations. For some veterans with post-traumatic stress disorder, though, they can be a nightmare.
It isn't any great mystery why, given how frequently extremely loud noises accompany traumatic combat experience. ABC News reported on this shortly before last year's Fourth:
Samuel Askins spent 545 days as an infantryman in the U.S. Army in Iraq, witnessing numerous firefights and suffering a concussion in an explosion that eventually ended with a diagnosis of post-traumatic stress disorder.

"It ruined my life," Askins said, adding that he tried to kill himself with alcohol and drugs because of the panic attacks and despair that followed him back to the United States and resulted in his retirement from active duty.

…

"Even with my recovery, the fireworks will kill me this week. The [fireworks] stands are all open," Askins said. "Just last week, I went fishing and I put the boat in the water when a cherry bomb exploded. I fell out of the boat.

"I will have to deal with this for the rest of my life," he said.
A post on this subject to a military PTSD support group on Facebook has some sad personal testimonials in the comments section. One spouse of an afflicted veteran wrote:
My husband and I always try to make it out of town and up into the mountains at a state park that doesn't allow fireworks. Otherwise I don't want to know what would happen….thank you for sharing Justin's perspective it definitely gives insight to what they go through and why my husband is so adamant about leaving dodge. God Bless and stay safe all of you.
This is doubly sad, of course, given that July 4th is partly about celebrating veterans — and that there isn't much affected veterans can do but try to get away from those celebrations.