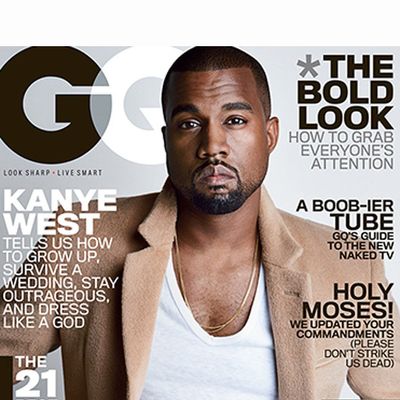 You'd think he'd be out of material now, but Kanye West appears to have infinite ideas about the fashion industry and his place in it. For his spread in GQ this month, the magazine not only allowed him to provide and style all his own clothing, but requested explications about each of the looks. While there were no kilts, there are, of course, many ridiculous quotes. A small sample of styling tips, compliments of Ye.
Kanye's Foolproof Fashion Equation: "Skinny pants are rock 'n' roll. And big coats are really hip-hop. I'm looking for 50 percent rock 'n' roll, 50 percent hip-hop, 50 percent genius. Because, you know — for genius, you have to be at a hundred and fifty percent."

Why Kanye Wears Layers: "If you're wearing layers, you can be in L.A., New York, Paris, in an airport lounge, or on a plane, taking layers on and off however. And the proportions get emotional. You know how a graphic can express a feeling or an emotion? Layers can, too."

Kanye's Reasons Why We Should Listen to Kanye: "Listen to what I'm saying — me, as Kanye West: I guarantee you, I'm more than 50 percent responsible for every men's shoe that they sell. Me, the singular person. More than 50 percent responsible for every Balenciaga shoe they sell. And they would say, 'You can't come to the show, because you are a celebrity.' But all honesty, no ego, I have a level of influence, and I have a level of respect for the designers. And we move product on that Barneys floor."

Lingering questions: How many layers are necessary to best express sad Kanye?