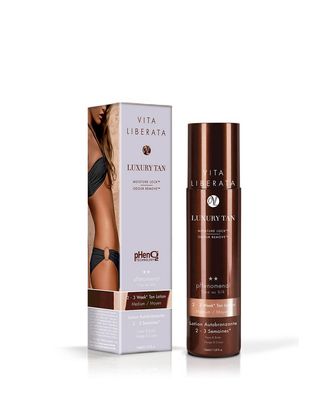 Photo: Courtesy of Vita Liberata
As a beauty editor, my tan comes from a bottle, not from the sun. I cringe when friends say things like "base tan" or "I'll just use SPF 15." Earlier in the month, Hamptons spouse Kim Kardashian tweeted an ebullient thank you (in all-caps) to her tanner-with-a-spray-gun Fiona Locke, who uses Vita Liberata products. But, I wondered, could these products scream anything but "FAKE KARDASHIAN TAN!" on a non-Kardashian?
The first lesson of self-tanning is that if the product comes with a mitt, always use it. Always. Using a mitt stops the tanner from tanning your hands instead of your body and prevents the dreaded "Britney Spears eating Cheetos" finger look (or the shock of the Cut's editorial director, Stella Bugbee, who once asked me, "What happened to your hands?!" after she saw me post mittless application).
Vita Liberata's pHenomenal 2–3 Week Tan is a mousse that promises to be odorless, natural looking, light, and airy. Three out of those four things turned out to be true. The tan, incurred over three days, was one the lightest, most smooth-looking tans I've ever had from a bottle. The mousse was airy and, most important, non-sticky. My skin felt smooth virtually seconds after I applied, meaning I could slip between the sheets without enduring tan-cling. Although the tan lacked the stinky-kitty-litter DHA odor of most self-tanners, it did have a slight scent upon application. That went away a few seconds later, but it may be a little offensive to those with sensitive noses. 
As recommended, I started with two to three pumps per leg. The mousse has a slight tint, so you can see where you've applied it, and three pumps turned out to be just enough to coat from knee to ankle. Because I wasn't careful and, in Clueless parlance, stumbled into "bad lighting" while applying the tanner, I ended up missing small sections around my knee. Despite that, I didn't look spotty. While I could see the color difference, a pretty, subtle golden tan that wasn't overly brown or orange, it wasn't noticeable to anyone else. Although the product name suggests that the tan endures for two to three weeks, I think it actually lasts for about a week — still impressive compared to most self-tanners, which disappear after a few days. For a true Kardashian Komplexion, I suggest going up to medium or dark, as the tan is truly that subtle.