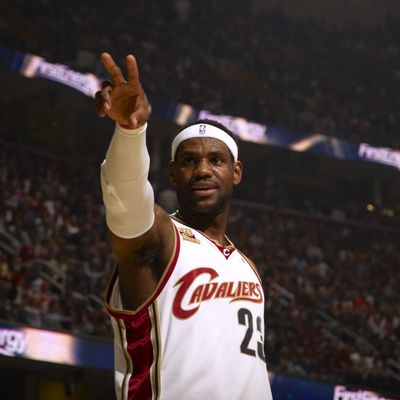 Photo: Bob Rosato/Sports Illustrated/Getty Images
LeBron James is returning to the Cleveland Cavaliers, the superstar announced via an "as told to" piece authored by Lee Jenkins on Sports Illustrated's website. The announcement is the polar opposite of James's last one, and it brilliantly gives James a sympathetic, relatable character arc: He left Cleveland a boy seeking out formative, youthful experiences, and is returning a seasoned man with a newer, more mature set of priorities.
Make no mistake: "As told to" Jenkins or not, every sentiment, if not every word, of James's announcement was likely crafted carefully by the PR army that shadows his every step. Superstars who also happen to be billion-dollar brands do not make life- (and commerce-)changing announcements extemporaneously.
Still, what craftsmanship it is. Four years ago, "The Decision" was marred by an inhumanity that bordered on the robotic — how could James force his home-state fans to wait so long, to sizzle in anxiety so excruciatingly, only to tell them via a glossily branded national TV special that they were being spurned? It was easy to read into it a certain lack of emotional depth or maturity on James's part, and "The Decision" acted as an accelerant fueling the anger that exploded in the wake of James's departure for sunnier climes.
The Decision 2.0, though, is like an emotional Swiss army knife for Cleveland fans looking to dispel the cognitive dissonance of once again rooting for him — it has all the tools they need. It casts the Miami years as an important chapter in James's life, but an ultimately transitional one that will serve greater ends. "Miami, for me, has been almost like college for other kids," he says. A little while later, he continues, "Without the experiences I had there, I wouldn't be able to do what I'm doing today. I went to Miami because of D-Wade and CB. We made sacrifices to keep [Udonis Haslem]. I loved becoming a big bro to [Mario Chalmers]."
The Miami years come across almost as a Rumspringa, of sorts, a chance to live the superstar life with his superstar friends in a superstar town. Now, though, it's time to set aside childish things. It's telling that even winning, naturally the central focus of the party that launched the Big Three era in Miami, is almost put on the back burner here. Sure, James says that "what's most important for me" is bringing Cleveland a title, but he quickly points out that this could take a while given the team's young core, and that he believes his "calling here goes above basketball" anyway.
James wants to raise his children close to where he grew up. He wants to help out the kids of northeastern Ohio, where he believes he can do more good and make a bigger impact than he could in glitzier, less rundown Miami. It all points to the notion that the last few years have changed him, have rejiggered his priorities. LeBron at 29 is not LeBron at 25. It's safe to embrace him, because now he's fully grown and he knows what matters.
So if you're cynical: Whoever is getting rich running this guy's PR empire isn't getting paid nearly enough. If you're not: Welcome home, LeBron. Glad that the years have taught you what matters.