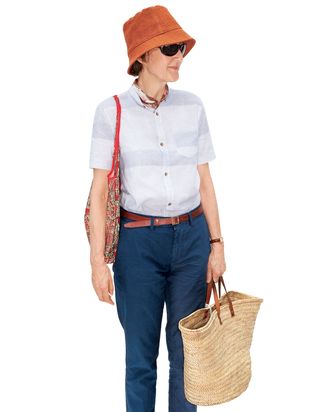 Photo: Lucas Michael/New York Magazine
Dinah Glasier, Artist

How are you handling the heat?
The humidity makes me weep. I always have to wear a hat in the summer—this one is from Barneys, but I felt so guilty after I bought it and got worried that I'd lose it, so I went to the fabric store and figured out how to make the same exact hat. Now I have two and I feel much better. I rarely spend a lot on clothes. Like this shirt: It came from Zara's boys' department. I think it only cost $19. And the trousers are Club Monaco—men's. I don't like that the women's pants have Lycra in them.
Do you mostly wear men's clothes?
I wear women's clothes, too—but I've always looked like a boy. Even when I was younger and had long hair, old ladies on trains would say, "Can you close the window, sonny?" It probably still happens now, but I don't have the best hearing. I'm more comfortable in trousers. You know those films where women are in high-heeled shoes and skimpy dresses and then they have to go on the run? Like in North by Northwest, the woman's heel breaks and it's all a bit of a disaster. I feel like if I had to run away at any point, I'd be better off in trousers.
Lightning Round:
Neighborhood: Park Slope.
Favorite building: The Chrysler Building.
Passion: Drawing. "I go to Minerva Durham's life-drawing sessions in Soho twice a week. She's a New York institution."
Cost of haircut: $125.
Pets: None. "I grew up with cats, dogs, birds, and even a deer. It lived outside but sometimes would come into the house."
Summer plans: "I'm going to visit family in England next week. I can't wait to wear a cardigan during the daytime."
*This article appears in the July 14, 2014 issue of New York Magazine.