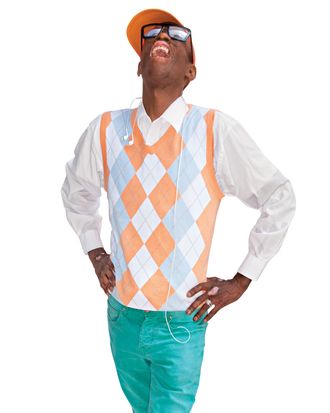 Photo: Lucas Michael/New York Magazine
Damon Grandison, HIV Advocate

Is that gum you're cracking on?
I love gum! Only bubble gum. I do not like chewing gum—there's a big difference. I can chew one piece all day, and nine times out of ten, I'll stick it on my nightstand and put it back in my mouth in the morning.
Are you from New York?
I'm a New Yorker through and through. I grew up in Washington Heights and then we moved to Parkchester. But I mostly hung out down at the piers in the Village. My friends and I would meet at the Port Authority and walk down the West Side Highway. We were all into the ball scene; I was in the House of Africa and competed in the "runway model effect" category. You were judged on what you wore and how you walked. But I wasn't twitching down the runway—I walked like a man.
Does that mean you know everyone in Paris Is Burning?
Oh, yes. It's funny—the night they were filming the big scene at Paris Dupree's ball, I was actually going to go. We had all gotten word that they were shooting. But I think I'd been out for two or three nights straight, and my mom said, "You are not going anywhere tonight."
Lightning Round:
Neighborhood: East Village.
Gum brand of choice: Super Bubble.
Glasses: Nonprescription. "I got them for $10 at a stand outside the Burlington Coat Factory."
Favorite block: Christopher and Gay.
Facebook, Twitter, or Instagram? "Facebook is it. No more days of long-distance calls—I'll just Facebook you, child."
Dream celebrity encounter: Patti LaBelle. "I want to cook with her."
*This article appears in the July 28, 2014 issue of New York Magazine.