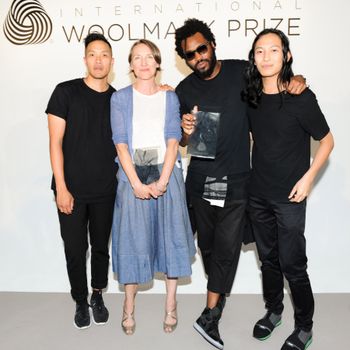 Photo: Neil Rasmus/BFAnyc.com
Last night at Milk Studios, Public School and M. Patmos were named the winners of the regional Woolmark prize in a competitive field that also included Jonathan Simkhai, Whit, Nonoo, and Rosie Assoulin. The two labels will go on to compete with finalists from across the world at the international competition in Beijing this March.
Public School designers Maxwell Osborne and Dao-Yi Chow were the victors in the newly added menswear category. "We're excited and then nervous for all the work that we [still] have to do," said Osborne, trying to keep a grip on the heavy trophy. "This feels like a lot more pressure, because we are going on to represent the U.S. We just want to make everybody happy." (Chow noted that the two are also at work on "a whole bunch of collaborations that we can't talk about.")
The duo designed a capsule that included a coat with a funnel neck capable of nearly obscuring the model's face, which was, believe it or not, not a callout to the polar vortex. Explained Osborne of the pair's inspiration, "Knowing that this was a merino wool competition, we kind of created this conception of a world where only merino wool existed. So we had to paint a picture of post-apocalypse or prehistoric times."
"It was really conceptual for us," added Chow. "We wanted to create something that was timeless."
Patmos also had an unusual starting point for her designs. "I was thinking about the idea of a woman traveling through multiple cities and multiple climates, and she might lose her luggage, actually, so she might have to just wear what she's wearing on the plane. You can wear it inside out, you can unbutton it. When she finally gets her luggage [back], there are many more pieces that all mix and match." Patmos is keeping busy with a collaboration with the artist Ryan McGinness.