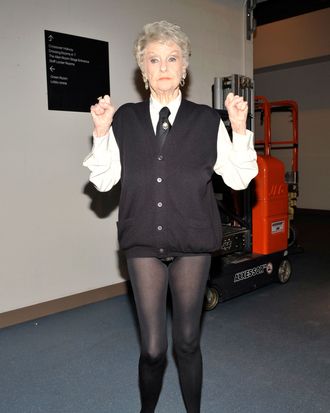 Around 2007, the media went into a tailspin over the supposed epidemic of starlets wearing shirts without pants. Mary-Kate Olsen and Sienna Miller wore only opaque tights under their shirts, to the scolding of many. "Sienna Miller, did you look in the mirror before leaving the house?" nagged PopSugar. "What was she thinking?" keened People StyleWatch of an Olsen grunge-inspired (and pantsless) look. These fevered outlets seemed to be forgetting that one woman, and one woman only, lit the tights-as-pants dynamite — and it wasn't trousers antagonist Lady Gaga or recent innovator Cara Delevingne. It was OG starlet Elaine Stritch, who passed away today at 89.
Stritch famously eschewed pants, preferring a uniform of an oversize white shirt and opaque black Wolford tights ("Mention them, maybe I can get a free pair," she once told an interviewer). The look became an on-and off-stage uniform. A New Yorker review of her show at the Café Carlyle noted she was wearing "nothing resembling pants." She was also known for her love of hats — immortalized in the Sondheim line "Does anyone still wear a hat?" — and oversize round glasses.
The reasoning beyond her preference for tights was more opaque than the stockings themselves. In an awkward Indiewire interview, Stritch avoided giving a reason for her choice.
Well, you don't have to worry about packing pants.

ES: No pants?

You don't accumulate pants.

ES: I don't understand.

You don't wear pants. I was trying to make a joke.

ES: I don't know what you mean. I'd like to get the joke.

Chiemi Karasawa: No, because you're famous for wearing your tights and your men's shirts.

ES: Oh, tights!

And for not wearing pants.

ES: I honest to God don't know what you're talking about. I wear slacks. I'm quite serious, I don't understand what you're talking about.

CK: Because whenever you perform you wear tights.

ES: I wear tights!

CK: And so people consider that you don't wear pants.

ES: But I don't call tights pants.

CK: That's what he's saying.

ES: I see, OK. Alright, let's press on.
Pants-tights confusion aside, Stritch made the uniform iconic, and she never abandoned it. Even last year, she arrived to a photo shoot for a New York Times profile wearing a Detroit Athletic Club T-shirt and tights. She will be missed.