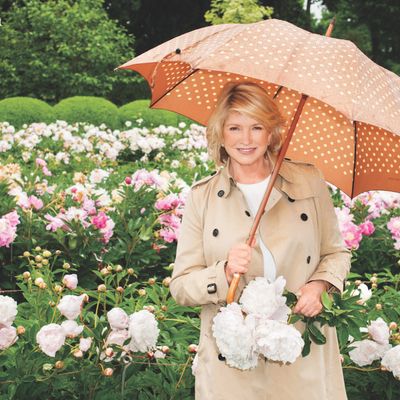 Photo: Terry Richardson/Porter Magazine
Just after Martha Stewart published a personal essay about how she learned to stop worrying and love her drones, she resumed her usual activities: sitting up very straight alongside fancy dogs, washing string beans, and dorkily standing by horses. She trimmed monster flowers in misting rain and proudly held needlepoint pillows.
Fear not that America's beloved domestic daredevil has lost her taste for controversy — because each activity was documented by highly debated camera-wielder Terry Richardson. And as for Mr. Richardson? Oh, Martha just thinks he's a dear. The editors at Porter Magazine reported:
After debating over a long list of photographers, America's house-mother superior insisted that Richardson shoot her. 'Oh, he is cute,' she will say later, when he comes to say goodbye.
Cute in the way that drones are adorable toys to be beloved? Well, there is a certain logic to that …