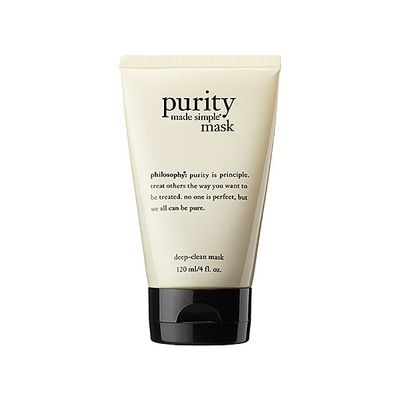 Photo: Courtesy of Purity Made Simple
It is to my mother's chagrin that I own more products for cleaning my face than I do products for cleaning my apartment. (I own only a bottle of 409 and a Swiffer, which everyone knows is not really cleaning, just like frozen yogurt is not really ice cream.) Here's another new cleaning product for my face, rather than the dust bunnies under my bed. Philosophy's Purity Made Simple Mask, which as close as a product can come to being a beauty dust-buster for your face.
You may be wondering, "Why do I need yet another beauty product to clean my face?" Good question. Simply put, because it makes your skin look really, really good in less time than a commercial break.
Straight out of the tube, the mask has a lemony, gel-like consistency. But with the addition of water, it transmutes into a white, milky paste. That doesn't sound the most alluring, but it has a soothing scent and the paste feels like your skin is getting a hug. The paste even slightly warms your skin, which I attribute to the mask containing sea salt. Leave it on for 60 seconds and rinse off. Afterward, your skin feels supremely soft (like you-want-to-give-it-a-pet-name soft) and steam-cleaned. Any blackheads I saw poking out of my skin were gone and my face looked fresh, extra-revived, and glow-y, sort of like I had just gotten new skin. How many household cleaning products can give you Jennifer Lopez skin in 60 seconds?