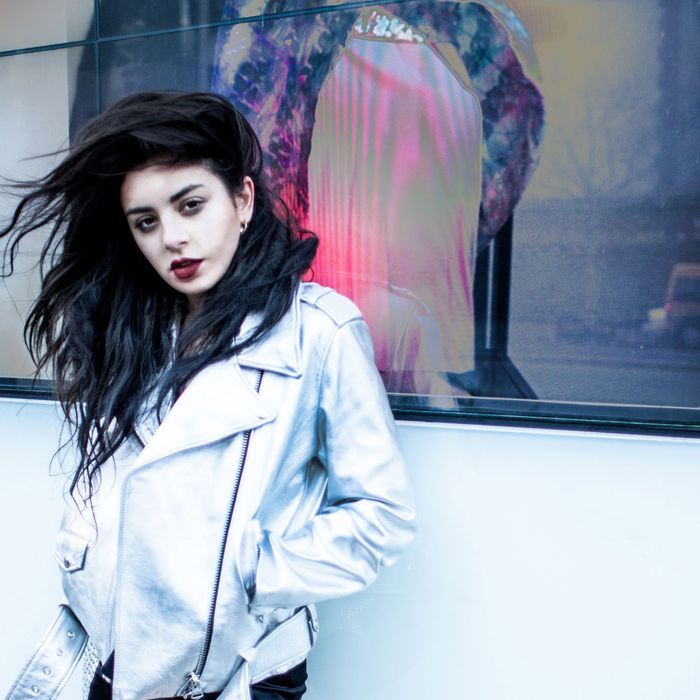 It's only mid-July, and already Charli XCX has become the voice of summer. At just 21, the kicky, supercool Scottish-Indian Londoner has scored the song of the season for two consecutive years — currently on crucial hook duty for Iggy Azalea's "Fancy" and 2013's "I Love It," which she wrote for Icona Pop.
And now, Charli's own major summer-jam contender, "Boom Clap" — the indelibly romantic make-out theme to The Fault in Our Stars — which is climbing the charts and soundtracking star-crossed lovers for the next few months and beyond. Her knack for a giant melody is uncanny; she writes hooks you've never heard before but feel like you've been singing along to your whole life.
To Charli, though, making would-be anthems is old hat. Her career began at age 14 singing onstage at East London raves, where she got an education in both music and fashion; that's where she refined her feel for dance-y pop numbers and her signature obsession with '90s looks. She still jumps around her stages in huge-platformed Buffalo sneakers, though she says her style is changing, and with it, her music. She will release a follow-up to last year's major-label debut True Romance this fall, and describes it as "bubble-gum pop but dressed in leather. It's sexy, it's pink, it's wild." She spoke to the Cut about her secret punk album, wearing your pajamas to work, and matching her melodies to color and clothes.
Good job on having both songs of the summer.
It's pretty crazy. I'm very happy, and feeling kind of weird about it. But like good-weird. It's still really strange to hear "Fancy" everywhere, and before that it was "I Love It" everywhere. It's cool; I'm very excited, but I'm very overexcited. It's strange but good. There's always that awkward moment if I'm out with friends, and it comes on, and then all my friends will be like, Oooh, it's your song! I always hear "Fancy" when I'm in Uber cars. Uber drivers really like that song.
"Boom Clap" is your next contender. For the video, you've really matched your style with the song — you're in a furry pink sweater and a silver moto jacket, something you'd wear on a dreamy romantic date.
Those are actually my clothes! I feel like when I wrote that song, I saw it as being the color silver, and I see stars and that kind of thing in the song. So I wore the silver leather jacket and wanted to look like it's kind of a dream.
When you write melodies, do you often visualize them like that?
I always see my songs in colors, and I'm often more inspired by movies and photographs than I am by other songs when I write my music. I'm also inspired by fashion, and I want my music to be a visual painting of what's in my mind. Whenever I'm writing a song, if I have an idea for the music video, that's how I know it's a good song.
"Superlove" is older, but it's one of my favorites to watch. What was the inspiration behind shooting it in Tokyo?
To me, that song always sounded like a games arcade, and I wanted to go to the best games arcade in the world. To me, that's all of Tokyo, so we went there and shot at the Robot Restaurant and then went outside and shot with a real Bōsōzoku biker gang. They were so cool; they had like, loads of tattoos and I rode on the back of their motorbikes. I'd never even been there before, but when I began writing that song, I saw all this neon and, like, Japanese game shows and video arcades, so when we were finishing up the production, that's what I wanted it to look like. I was also inspired by Akira and movies like that. The shoot was crazy as well, because we had to do it all in secret; the police actually came and shut that shit down, because it's illegal in Tokyo to ride with a bike gang. All the bikers had to run away to escape the police.
You're enamored of '90s style, but it's very much an amalgam of pop and rave fashion. How much did playing at raves as a teen influence how you dress?
That was my first introduction to any kind of fashion world, and any kind of music world, too. So I was always very in awe of these people, and from that scene I became aware of Michael Alig and the original Club Kids, Party Monster, that whole world. I was pretty much fascinated by that growing up, and I think it definitely influenced my style for a period of time, and also the way I performed on stage. But my style is changing as I'm getting older, naturally; it's the case with most people. I'm still obsessed with the '90s, because I feel like there was so much fashion that was right on the edge of being the worst thing in the world, and that's, like, the best. But right now, I'm really inspired by Jawbreaker the movie — I'd just love to raid Rose McGowan and Marilyn Manson's collective wardrobe when they were a couple. And also, Mariah Carey. Nineties Mariah is just, like, next level. Right now, I'm just into wearing underwear.
I was going to ask you about your recent Late Night With Seth Meyers appearance, during which you wore a kimono and a slip dress. How great is it, wearing your pajamas in public?
It's so good! I mean to be honest, I'm wearing them right now! With that performance, I was inspired by Kill Bill, and my band all wore matching kimono tops. I just kinda wore a load of Victoria's Secret. But it's nice, because I never have to wear a bra; I can just roll out there. It's awesome. 
What's the best thing you ever thrifted?
Right now, I'm actually really into kitten heels. Like really bratty kitten heels, and I found these supercute silver glittery kitten heels that are, like, really Mariah, and I love them. I also found a see-through pair of glittery Melissa shoes at a thrift store, and they have these horseshoe charms on them, but they fell off because I'm always stomping around.
You have an all-female band. Is it important to you to collaborate and work with other women?
Yeah, I feel like I actually gravitate toward women. I think I've only collaborated with one male artist, which is Danny Brown. Everyone else has been female — Iggy, Icona Pop, Brooke Candy. I just feel like the songs I write lend themselves to this girl-power feeling, and those are the artists that I looked up to when I was younger. There's something about girls together, uniting, that I just thought was cool. And with my band, it's just fun to tour with girls. I'm all about that pussy power.
Earlier this year, you recorded a whole punk album in Sweden. Were you just letting off steam?
I was just over the music industry for a period of time. I went to Stockholm and was trying to write for my record and that was just kind of what came out. It was cool and really therapeutic; I stayed in the studio for two weeks and screamed and it was awesome. There's one song that ended up online, and a couple of the songs are actually gonna be on the main record, but mostly I feel like it got out a lot of frustration and anger and I really needed it. I was so caught up in the idea of writing pop songs. I'd written "I Love It," but I just couldn't really focus. I felt like I was being so uncreative, because I was just trying to write songs for other people who wanted songs that sounded like "I Love It." I really don't know what I'm doing when I write a song, so it's difficult to replicate it. It just got frustrating, and making those punk songs allowed me to release. I kind of stopped caring, that was the main thing. I stopped caring, and that set me free.