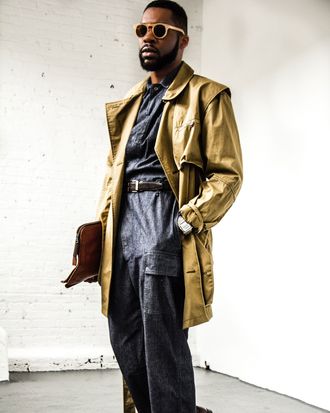 Beyoncé recently posted a picture of herself on Instagram posing against a white wall in a belted top and contrasting pencil skirt; the next day, she wore a low-cut romper during a photo shoot in some sort of basil garden.
Both looks are the work of Reuben Reuel, 28, a Brooklyn-based designer who has spent the last four years building a brand called Demestiks New York. Primarily sold on Etsy, the womenswear line is based on Dutch wax prints and other classic African patterns.
Long before Suno was a twinkle in Net-a-Porter's eye, Reuel was using traditional fabrics to make garments for the women he met at church in his hometown of Virginia Beach. He would take their orders after Sunday service and create one-off garments based on what each client needed. As word of mouth spread, he developed a loyal following of locals — and eventually moved to New York to launch his own brand in 2009. With his bold use of color and indie fashion-girl aesthetic, his work has a vintage, girly quality to it. It draws on the bolder elements that came out of the '70s and '80s — peplums, dolman sleeves, and oversize bows. Think of him as Bushwick's answer to Stella Jean.
Reuel talked to the Cut about his Garment District beginnings, the road to Beyoncé's closet, and why he'll always make his dresses available on Etsy.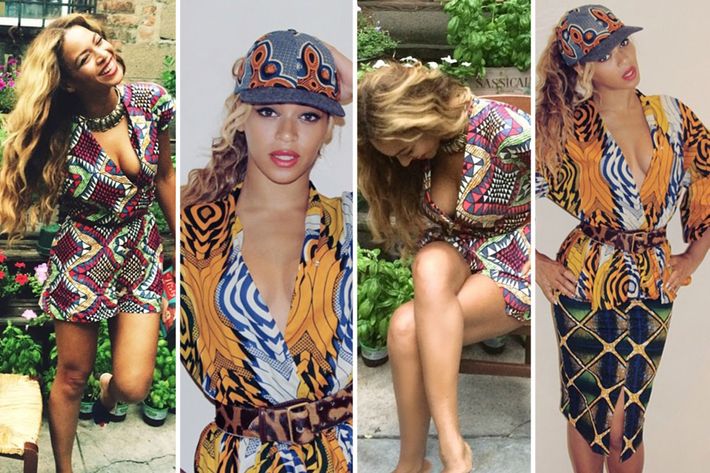 How did Beyoncé discover you? 
I mean, what am I doing with Beyoncé wearing my clothes right now? [Laughs.] Well, my first celebrity was, believe it or not, Michelle Williams of Destiny's Child. She was doing Fela! at the time and wanted to incorporate the African print in a stylish way when she did interviews. For the longest [time], everyone was telling me, "You should dress Solange; she lives in Brooklyn." But it ended up coming from Beyoncé. A friend of mine is one of Beyoncé's stylists and told me she wanted to pull some things for her. But you never know if the celebrity will ever wear it. When I found out she did and posted it online, I was driving and my friend in the car was checking Instagram and told me. I screamed and nearly got in a car accident.
When did you first feel the urge to design clothing?
I guess you could say I was 5 or 6 years old. I gave my mother and sister tips on what to wear. I'd help them pick their clothes out. And then I took a Home Economics class in middle school and that's when I really learned about sewing. I guess I always had the eye.
When did it go from childhood hobby to potential career?
I went to a vocational school to study fashion design my junior and senior years of high school. Being able to learn how to make patterns and drape fabric made me fall in love with fashion even more. I later went to the Art Institute of New York City. I knew that I had to move to New York. I didn't finish school, though, because it got too expensive. But I got internships, and through my internships I learned a lot about the Garment District and began to form my own relationships with the fabric vendors. I told myself that I wanted to support the Garment District as much as I could.
What made you want to start your own line?
I wanted to make clothes that were comfortable for women of all sizes that aren't necessarily readily available. As you know, Virginia does not have a lot of toothpicks walking around. I decided to offer the clothes in XS to 4X. Whatever I designed had to look great on a woman who wore XS or 4X.
And how did Dutch wax prints enter the picture?
I began using them when a client requested it. A lot of people use them now. So I'm going to potentially transition into other fabrics. I don't want to just be the African-print guy. For me, it's about finding unique fabrics in the garment district. It's not just about the wax print.
Do you ever worry about making your work stand out from all of your competitors using similar prints?
I think about the styling of the garment before I even design it. What can it do? How can it change over time? And my price point matches the garment you're getting. A lot of people who want the print aren't willing to pay $600 when you can only wear it once, put it in the back of the closet, and then have to reintroduce it again later. A lot of my customers are looking at cost per wear.
You only sell on Etsy at the moment. Now that Beyoncé has happened, will you branch out?
My clients live everywhere — London, France, Italy, Australia, Angola, China, Japan, Korea, Kuwait, Germany, all over. If I sold to a boutique, I'd be limiting myself to that shop and its foot traffic. I've had stockists contact me asking for wholesale orders. But online is best for me. I don't want to ever be in a department store. I feel like that's a graveyard to me. I don't do large quantity. My goal is to keep this special, for my customers to feel like it's personal.