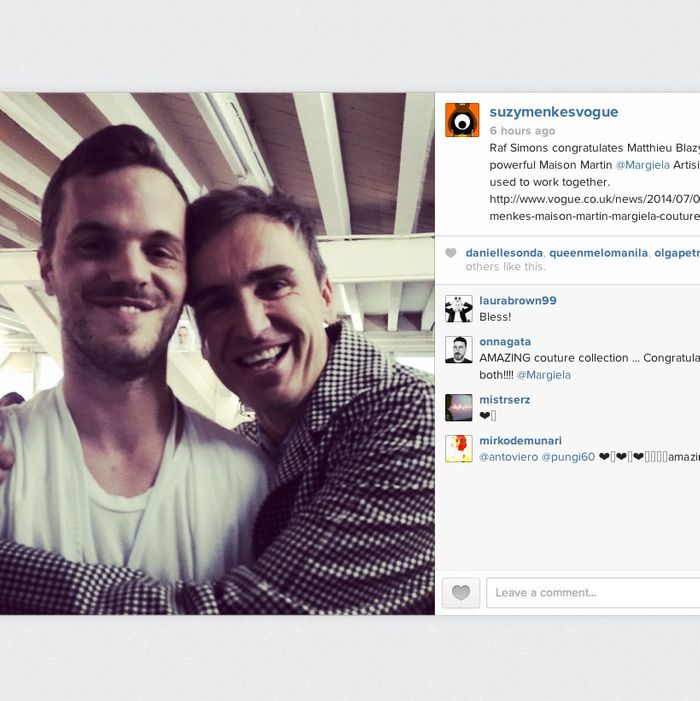 Photo: Suzy Menkes Vogue/Instagram
Since the departure of its namesake designer circa the late 2000s, Maison Martin Margiela has chosen to present its design team as an anonymous, lab-coated cabal of talents. The house has made numerous attempts to hide them — even making them avert their faces in a 2013 Elle shoot. But Margiela does, in fact, have a single head designer. His name is Matthieu Blazy, and he is a pretty normal-seeming 30-year-old. His LinkedIn profile, which has been public for years, plainly lists him as head designer at the label.
Update: The company responded to a request for comment as follows: "As long standing policy,  Maison Martin Margiela does not communicate on any one individual, and our work is done as a collective whole."

Suzy Menkes is definitely a fan. The international Vogue editor posted a cute Instagram picture of Blazy with Raf Simons, and captioned it as follows: "Raf Simons congratulates Matthieu Blazy after a powerful Maison Martin @Margiela Artisinal [sic] show. They used to work together." In her review, titled "A Star is Born" (hopefully, things turn out better for Blazy than they did for Esther Blodgett), Menkes praises the designer by name, saying that this collection "brought the designer Matthiew Blazy out of the shadows." Menkes concluded,
It is understandable that Renzo Rosso, whose company Only the Brave is behind Margiela, should want to keep Blazy backstage - especially since the founding designer so rarely showed his face. But you can't keep such a talent under wraps.
According to his LinkedIn profile, Blazy previously served as a senior designer at Raf Simons, and evidently remains friendly with his former boss. He also interned at Balenciaga and John Galliano. Despite this impressive CV, Blazy hasn't done press in his capacity as Margiela's designer. But it looks like he is, willingly or unwillingly, edging his way into the public eye.
Not that Blazy is an altogether private figure. A quick page through his (public) Instagram reveals that he watches soccer with Adriana Lima and Isabeli Fontana.
Update: The account now appears to have been deleted.

He also gets silly with model Katlin Aas.

And here he is with his "dream team." Hmmm, looks like the Margiela team just got unmasked.