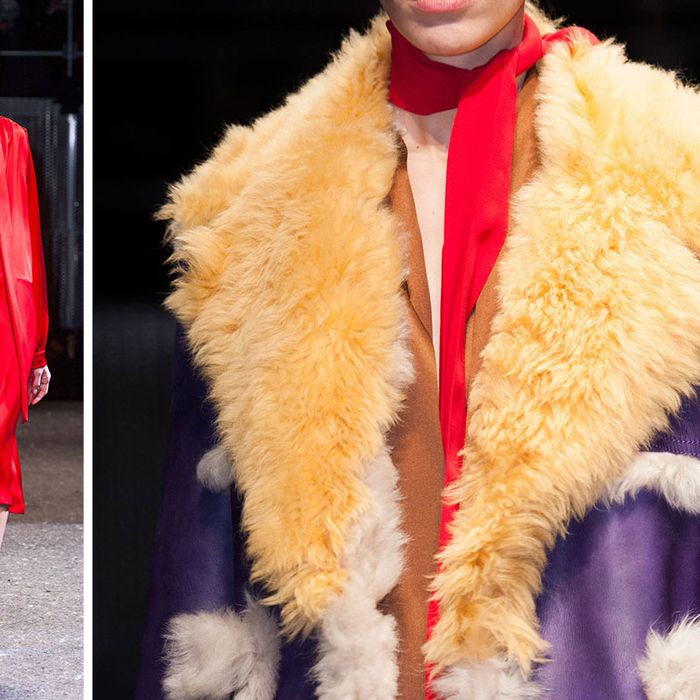 For Prada's fall 2014 collection, Miuccia Prada drew inspiration from the 1972 film The Bitter Tears of Petra von Kant, known for its mind-bending narrative and amazing fashion. The collection oozed with touches of '70s pimp — metallics mixed with dark tones, and shearling layered over jewel-tone organzas.
But the runaway hit of the show were skinny silk scarves — in lilac, lipstick red, purple, and citrine — draped around the neck of each model. Immediately, people freaked out about them on Twitter: "This is how you'll be tying your scarf next season. Long skinny and to the side #prada," said the The Sunday Times "Style" section; "I have a sickly obsession with the Prada scarves," tweeted one fashion insider.

 And, as of last week, they're officially in stores. 
We tried out a few here at the Cut — and found that they're remarkably easy to wear. You can wrap them around your neck to make a blazer look instantly appropriate for evenings, or throw one on over a silk dress to add an element of high fashion. The only hard part about them is picking out your favorite color.
Prada Silk Scarf, $285 at Prada, 575 Broadway.