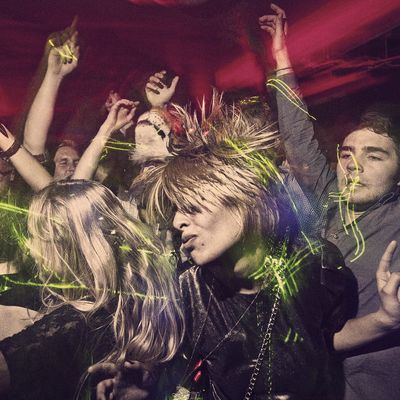 Photo: PYMCA/UIG via Getty Images
I guess it started at church, a Sunday at Resurrection Williamsburg back in 2010. I spotted Galina's blonde head bobbing high above the crowd of off-duty bartenders and bloggers and musicians. She's the churchy type — homeschooled and genuine, with sloppy makeup.
Galina* and I had first met at a "Models for Christ" meeting. It was back when I "worked" in fashion, and she "modeled." I yanked her arm to say hello. "This is my roommate," she said, introducing Elise, a lanky girl, all legs, with bleached waves of hair that fell to the cherrystones on her pelvic bones. After the service, we walked to their place in Greenpoint and all split a leftover Caesar salad on a kitchen fold-up table with stray hair strands stuck under chipped paint. Elise smoked. "Is she a model?" I asked Galina, when Elise turned to exhale. "Yeah," Galina mumbled. Her own career had never gotten off the ground; she was the wrong kind of pretty.
I'd moved to the city after college from the Philadelphia suburbs, wanting to be Carrie from Sex and the City, a dream that had withered in 2009's pinched economy. My bank account fluctuated from $50 to $500, depending on tax refunds and my mother's sympathy. I took unpaid internships and bunked in the garage below my grandparents' Brooklyn row house, spending weekends beside my grandfather in his burgundy La-Z-Boy. I wanted bankers in custom suits swiping Centurion cards, Buddha Bar, Boom Boom Room, Eurotrash, and disco balls. I was bored.
"You wanna go out?" Elise asked, pushing aside a lettuce leaf.
…
A couple of hours later, we're pulling up outside Cipriani Downtown in a black Escalade.
"C'mon," Elise says, pushing past people crunched around the bar to a long banquette in back, where a row of babettes in little black dresses are picking at small plates and giggling over glasses of Champagne. At the head of the table is a guy in his 30s, bald, with heavy eyebrows and a severe expression, appraising the knee-length woolen dress I'd worn to church. "Hey, Nima. This is Kristin." Elise leans against him, and he softens, waving down busboys for extra chairs. I sit down, raising my eyes at Galina behind the menu at the prices. "Don't worry about it," she says, delicately unwrapping the napkin on her lap. "The first time I went out I didn't believe them when they said everything was free. But it is." We order two Bellinis.
….
Galina goes back to North Carolina to live with her parents. Elise and I stay. We go to a bagel shop near her new Chelsea apartment and never buy bagels. I love cappuccinos, and she drinks her coffee black. Like Galina, Elise was homeschooled. When she left for Paris to model at 18, she didn't know where babies came from. She'd never heard of the Celsius scale, and so would pant down the Champs Élysées in parkas in May. ("I kept thinking the weather people were crazy," she told me once.)
Elise introduces me to her friends, girls whose prettiness negates the need for employment. There are "model" apartments in great spots downtown, where you can stay rent-free, and free trips to the Hamptons, St. Barths, and Cannes, as long as you stay young, thin, and lovely. The swarming men take you to NBA games, shopping trips at Barneys, and celeb-filled events. VIP means: what rich men want to fuck. I'm not exactly the right type, but I'm close enough to tag along.
"You'll like the Hamptons," Elise says outside Sephora on Broadway one day. "Ricky is great." The Hamptons are special, I learn. You can't just show up; you have to be invited. Elise says she needs to take my picture to show Ricky, who'd quit work as banker for a career as a promoter. I put my hands on my hips, and Elise snaps with her phone.
Friday afternoon, Ricky picks us up in a chauffeured Escalade. We smoke and share Four Lokos, and arrive at a sprawling Frank Gehry–inspired estate on the Southampton seaside just in time for a night swim. Rob, a fortysomething film producer with a tiny face plopped unceremoniously in the middle of a large egg-shaped head, gives us a tour, pointing out the fully stocked kitchen, bathrooms, the sauna, and extra linens. There is a painting by someone he seems to think I should know, and old, crumbling books. Bill Clinton has been known to take an upstairs bedroom when he's in town, Rob brags, and Donna Karan occasionally lunches on the patio. The several rooms below are for the "visiting angels," as he calls us, with rows of twin beds, and stiff pillows for each head.
A Spanish-speaking maid studiously folds vats of plush, pool towels. "I bet she thinks we're hookers," I whisper to Elise. But as Ricky had made clear in the car, he isn't a pimp. Not exactly, anyway. "I tell all my clients," he'd said to us in the car, craning his head around to the back seat. "I will get the girls to talk to you, but it's not my job to get you laid."
Outside, we drink with the rest of the girls — Adriana, Sarah, Jessica. They're lounging by the pool, magazine-cover sylphs amid a smattering of post-prime paunch. I dip a toe in the water, as Rob and his friends, looking wicked and thirsty, wait for us to undress and get wet. The water is salty. "I always tell girls that it's good for your skin," Rob says invitingly. "It's natural, like the ocean. It's what's in the womb."
"Yes," says Adriana, a Slovakian who's just been named the Wonderbra girl, dipping into the saline ripples, her golden reflection glittered across the surface like an opium-dream. "It's amazing."
Jason, a hedge-fund manager, looks me up and down. "Your body is amazing," he says. "Except your butt," he adds. "It's the bikini. You need the Brazilian cut."
"See?" says Jessica, who's appeared in some Victoria Secret catalogues, showing off her own, with a finger slipped underneath the tiny piece of polyester. "It's more flattering."
Evenings, we pile into Escalades, limbs on top of limbs, popping out like sexy clowns. We dance to Taio Cruz next to chocolate fountains, all the models and cool kids and moneyed middle-agers blending together in the slurred intimacy of intoxication. Since that first night at 1 OAK, I've learned how to apply eyeliner and walk in five-inch heels. Things seem to go your way with the right attire. I've learned how to get guys to pay for polite conversation. The house saves the best tables for the biggest bottle clients and for the promoters. It's easy to spot promoter tables at any sceney spot; just look for rows of babies wrapped in spandex at a restaurant they can't afford. Babies for sale.
The more money the men spend, the better they are treated. The better the girls, the better they are treated. "Better," two men tell me one night, means something approximating a 17-year-old blonde who looks "like she's down to sniff a line of coke off your dick." Lenka, a Czech model with the biggest, darkest eyes, the whitest skin, and a rosebud belly-button, explains everything from the other side one night, drunk and coked-up at Avenue: "Men are stupid. They see the girls dancing. The blood from their brain goes — zoompf — down." They want to spend. "It's biological," she says. In return, the girls get to feel VIP. I'll always remember the night I spent dancing next to Avicii. I felt special.
…
Elise is swaying, yanking on a hem that keeps creeping up when Ricky comes toward us, accompanied by a middle-aged guy who looks like someone's dad. A bottle-service client. Ricky yells introductions over the music. It's usually the sort of bro-smug hedge-funder who skims the uptown Ferragamo store after work, exiting with rubber-soled shoes. A man in saltwater-soaked underpants confidently tells me, "If I were a girl I would want to date me or my friend here, Jeb." They were listed in some Forbes article for an investing scheme, he boasts. They were the top-something under 40.
Old men tend to go for Elise; they love blondes. One offers a veiny handshake, and Elise smiles and grinds up against him, thrashing Barbie tresses over his shoulder. He looks startled, even more so when she drops it and pops it, palms kissing the rainbow dance floor. Soon our new friend is stuttering, gone. Elise winks at me. "I don't know why he brings them over," she yells over the music. Elise only dates model types. She spirals back down toward the floor, and I think she's still dancing until she looks up, shocked, a splash of bright-red blood on her forehead. Ricky appears and peels her up off the floor. "Don't worry," he says, as she lolls to the left. "It's my job to take care of Elise," he says. He'll tuck her into bed. "You should stay here. Have fun."
"All she needs is a bump," Jessica says, as we watch Ricky drag her away, stumbling in her heels. "I wish I could offer, but Ricky would get mad."
"What's a bump?" I ask.
…
Every Friday that summer, the Escalade picks us up. I'm not a model, and I'm not like some of the other girls, who have financial sponsors. So during the week, I work. I have to. My best friend from college, a waiter at the Standard Grill, got me an interview with their general manager. "I'm open," I tell him. He squints, nods, and jots stuff down. I end up working in reservations. The room is beige and gray. "So, most of the people can't actually get a reservation," Niels, the manager, says on the first day. "But we want them to feel appreciated." He tells me I have a soothing voice.
I sit between Allison, a plump-cheeked Williams College graduate who reworks classic bikes in her spare time and LaShelle, a Queens girl with a penchant for magenta lipstick and Jamaican men. Mondays, I arrive dizzy from Hamptons rose fuel and tell them about the three-to-a-bed sleepovers, midnight swims, all-night dancing, and meeting Russell Simmons three separate times.
There are some things I leave out of my recaps. Every weekend now, Elise gets wobbly. I notice she always refuses food at dinner, so we have a talk; if you are going to drink, you need to eat something beforehand. Do not hurl the contents of your stomach, so it absorbs Grey Goose straight up, like a sponge. She nods and smiles like a geisha girl, and collapses in a knobby puddle later, heels to kohl-streaked cheeks. Ricky, his head dark and smooth like a Hershey's bar, always holds my hand. It's his job to worry, not mine, he says. He tells me to go over "there" — there with the other girls with tight expressions, doting fathers, and loving boyfriends.
I'm tired of watching my friend get dragged out, eyes rolling back, from beachside gatherings, but Elise explains that Labor Day is the pinnacle of summer. I have to go, even if I'm getting a little sick of it all. Her buddy James is younger, cuter, more fun than Ricky. James is a cocoa-colored Sideshow Bob with rock-hard abs, and he likes her. As we drive to Southampton from the city, he keeps Elise close in the passenger seat, rubbing her bare thighs, while yelping toward the back that I'm a bitch. I'm not a flirt. I don't smile. We arrived at Eric's home. He's a millionaire who hasn't worked since his 28th birthday.
It's beachside suburban sprawl, a hollowed-out shell overflowing with Ethan Allen furniture and girls each summer, stuffed in side rooms and nooks, and the bulk of the exterior designed for tanning, swimming, and Jacuzzis. Something like a barely legal porno.
Eric is a New Yorker, a beautiful, rich, asshole with a pretty, wasted following, all of us herded by James and his partner Lips. Lips calls us over to the breakfast table, offering up a culinary masterpiece — unzipped, leering at all of us girls, proclaiming, "Okay, somebody's gotta suck it." I'm scared. Elise is smiling. Eric rationalizes away his friend for us. Lips is a "good kid from a good family" who craves the "security" of superhuman strength, and the sociopathic, "stabilizing" ability to forget each night by the next evening. He earned his nickname from lips-to-bottle vodka guzzling. He snorts, shoots, and swallows too much of everything else.
I ask Michelle, who skips class to club, if I should sleep tonight, and she explains that I need doors. The bedrooms in the Southampton home have no doors, so she opens a closet door. "A safe hideaway." She slept inside a closet at Sir Ivan's Castle, she says, and demonstrates, twisting on the floor in fetal position. "See?"
Matt and Kurt, these almost-promoters I meet out one night, had already told me about the place in Watermill called Sir Ivan's Castle. It's the kind of place people tell stories — tall tales? — about. "It's a sex castle," Matt says, standing around the kitchen in Kurt's apartment. I scan pictures via Google, checking out palatial grounds, towering turrets, and glittering bodies. "Like a fuck show. They tell you put your clothes in the locker and get in your underwear. And then they won't get you the key to get your underwear. And then when you go into certain rooms, you have to get naked."
"Who the fuck is Sir Ivan?" Kurt asks.
"He's this Jewish guy from Jersey," Matt says, popping a cheese slice into his mouth.
"Wears a cape. He's a big deal. He's at Provocateur all the time. He buys the biggest table." Matt blinks.
This is what Michelle tells me about what she remembers from her visit there: Picture men in every room naked with women, and women with women, and dilated pupils, and sweat, and creamy piles of fluid, and trays of fairy dust, and magic pills, and drums of pink drinks. Sex noises, yoga praying postures. She says there is a pasture outside where people break for small chat over cocktails. And Erin, a girl I see out at parties, supposedly ran outside, putting her clothes on as she ran, like running, trying to get out the gate, calling the cops with her phone almost dead, and it's the Hamptons. No reception. Saul, the promoter that the other promoters distrust, brought girls there and got kicked out the house 'cause the girls wouldn't fuck.
"But why would he bring them there?" I ask Matt.
"He didn't know how bad it was," Matt says. "You don't believe it until you see it." He laughs. "They were, like, homeless in the Hamptons. They slept on the beach."
I refuse to believe him. Maybe Erin just ran away from the sights and the noise. Back at the office, LaShelle pauses to put a customer on hold as I tell her the rumors about Sir Ivan's Castle. "The Hamptons are over anyway,"  she says, smacking her magenta lips. "Like two years ago, I would go to the Surf Lodge, Montauk, but now, anyone who's anyone is in the South of France."
…
Back in New York, I meet another promoter, Jimmy. One night, he pulls me over to the bar downstairs at the Trump SoHo. He introduces me as the girl who's "here all by herself" to "billionaires from Norway." They are actually just young professionals. I make polite conversation, then go dance.
Jimmy grabs me and kisses me.
"Let's go talk outside," he says.
"Did I do something wrong?" I ask.
"No. I'm interested in you." Another wet cheek-plant. "For dating. I have a limo arriving at 1:30," he whispers. "Not everyone knows that. You're coming with me."
The limo becomes a stretch Escalade, and we pull off at 2 a.m. I get squished in with the Norwegians. "Girls!" Jimmy shrills. "Girls! Move over."
A girl, posterior lifted mid-air, feels frantically below a cushion.
"Where's my phone?!"
"Just get it tomorrow," Jimmy yells. Clubs dock promoter pay when the girls arrive late. "Listen," he says, "they want us at Avenue now."
A high-pitched chorus of Noooo comes from the back seat.
"We have the best table," Jimmy says, wiping sweat off his eyebrow. Middle-aged, drunk, and sparkling high, he's like a screwball choreographer, making sure we get onstage, hit our spots, smile, and drink when we should. "Listen, let's go to Avenue and then we'll go to OAK later," he says. Promoters often work three clubs or more in one night to maximize their fees.
More squeals. "Marqueeeeeee, we at Marqueeeee?"
"Listen!" he says. "They want us to go to Avenue for one hour and OAK for two hours."
"Nooooooo!"
"Girls!" Jimmy turns around. "Do you know the word moderation?"
"No!"
"Okay, we'll go to Avenue for 30 minutes and 1 OAK for three hours."
"Okay!
"And I don't want anyone falling in love with me," he says. "Nobody."
"Oh, no. Jimmy! I'm in love with you," squeaks a small blonde with swimming-pool eyes. Avenue is a sea of 19-inch thighs and $500 heels digging into Italian leather. Three Eduardos collide with a table of luminous bottles. They rise drenched and unapologetic.
As we enter 1 OAK, Jimmy paws my hand. "We're the hottest couple here. I won't let go of your hand all night. Unless you tell me to." He leads us to the back, the booth facing the bar. "Tell me your name again," he whispers in my ear.
"Kristin."
"Kristin," Jimmy says, introducing me to the man on my right, "is here by herself."
…
I still go out, but it's different. It no longer feels like I can't get hurt. Elise and I drifted apart. Sometimes I see James, Lips, or Eric at Finale. Or I'll see the girls at Dream Downtown hotel. We share knowing glances. It's like the bond of fellow POWs; it's too painful to reminisce, but it's reassuring to share. We're all Facebook friends. But now, if I go to the Hamptons, I just pay.
* Names have been changed.