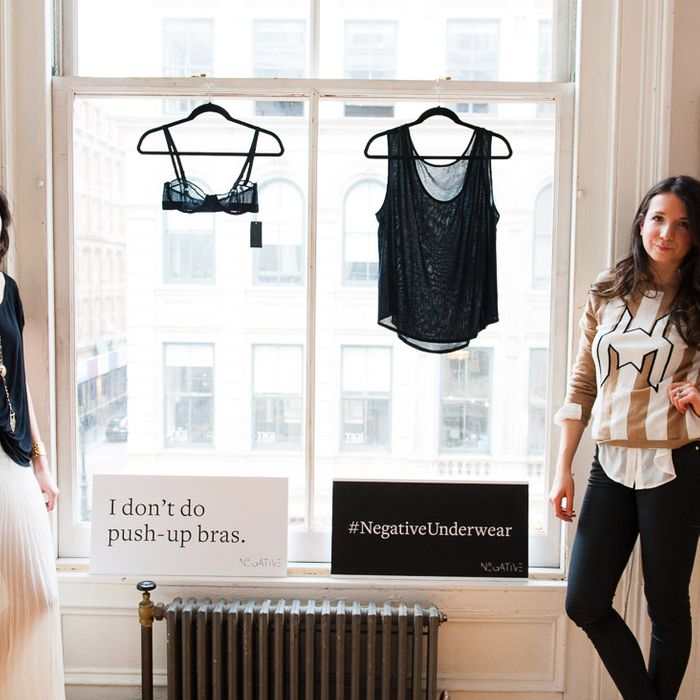 Photo: Stephen Ewings/Frwd Momentum
Uncomfortable cups, poking underwire, itchy lace: The list of problems you can find with a bra goes on and on.
A new lingerie line, Negative Underwear, seeks to solve those bra problems — and to make underwear that women actually feel comfortable in. "Bras don't have to suck" is the mantra of the brand, which calls itself a company by women and for women.
After ditching their careers in business to study at FIT, co-founders Lauren Schwab and Marissa Vosper found a hole in the lingerie market. Now, they make bras that "cut the crap," according to the company's website. "No more itchy annoying-ness." No tags, no bows, no frills.
The Cut talked to Schwab and Vosper about how and why they got started, how wearing simple underwear can feel like de-cluttering, and how they claim to have tried on every bra currently for sale on the island of Manhattan.
What inspired the creation of Negative?
We met in college at the University of Pennsylvania, studied liberal arts, graduated, and both went into our respective careers in New York City — Lauren in finance, Marissa in branding. The thing is, we've always loved fashion, our mutual creative outlet. About four years ago, we were progressing in our career paths but had a nagging sense that something was missing. We decided to take night classes at the Fashion Institute of Technology for fun, to see what would come of it.
When we started exploring the world of fashion from a business-opportunity perspective, we saw a white space in intimates — a rather limited category lacking in new entrants, largely supplied, owned, and operated by men (or men-run businesses), without a lot of brands we could identify as beloved by their customers.
How did you begin to develop the product?
We surveyed about 1,000 of our female friends on Facebook to ask them what they thought about underwear and found they felt the same — an explicit sense of dissatisfaction with their options and a desire for something better.
While we took courses at FIT in fashion design and product development, there wasn't a lot of lingerie-specific instruction available, so our process was more organic, tactile, and iterative. It involved hours upon hours in fitting rooms — trying on every bra on the island of Manhattan to understand what worked, what didn't, what could be better, and how we could do it. We also attended the big lingerie trade shows in Paris to hone in on our materials — feeling our way through thousands of fabrics, elastics, and trims from around the world to find the softest, most luxurious options. We were then lucky to find great pattern-makers and sample-makers in New York City's garment district who worked with us on Saturdays to help us see our vision through.
The iterative nature of our process can't be underscored enough — there's no definitive standard on how to make intimate apparel, so we tried lots of combinations to find what worked best — and, most important, what felt best on. We used ourselves and our girlfriends as fit-models to ensure we were building something people would want to wear.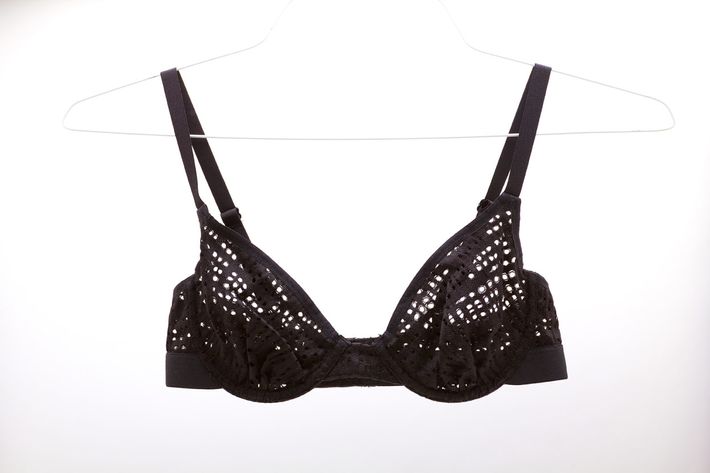 What sets Negative apart from other lingerie companies out there?
Negative is underwear you can put on in the morning and forget about all day, because it feels like a second skin. It's underwear you're not dying to take off first thing when you come home from work. It's underwear you love to wear and are proud to show off — for yourself or for someone else.
And our difference goes beyond product — with our brand (and business), we give a lot of consideration to what's not there, continually editing out anything unnecessary in order to stay laser-focused on what really matters — and what remains. This applies not only to product design and brand identity, but also to our edited merchandise assortment, web design and UX, packaging, social media, and editorial content — the whole customer experience.
Casual fashion is having a moment right now (Chanel sent flip-flops down the Couture runway, for example). Do you think there's also a shift for women toward more comfortable, no-frills undergarments?
The core idea behind Negative is "less is more" — focusing on the essentials and ditching the rest. We see this idea as part of a broader shift in consumer culture — a conscious de-cluttering, so to speak; in fashion, in food, in health — there's a clear desire to live a more considered life.
When it comes to underwear specifically, function, fit, and feeling good are paramount. There is a lot of beautiful lingerie out there that has zero function — in fact, it's never really meant to be worn under clothes (or at least not for more than five minutes if we're being really honest!). Equally, there are plenty of functional undergarments that have zero cool factor. We wanted to merge comfort and cool — a brand that functions like a luxurious second skin and that you're also proud to wear without anything else on!
How does Negative "challenge the status quo"?
So many lingerie labels (especially some of the big names out there) display one version of sexy — super pushed-up, bling-ed out, lacy, and frilly everything … a very voyeuristic, pinup approach to sex appeal. Our brand is intentionally not like the rest — we took away the fake push-up pads, the extraneous ruffles, the excess ribbons and sequins, the imaginary boudoirs, and the Photoshop to present something much more streamlined and real.
We believe sexy comes from confidence and feeling good in your own skin, so we wanted to create a line that celebrates women as they are.