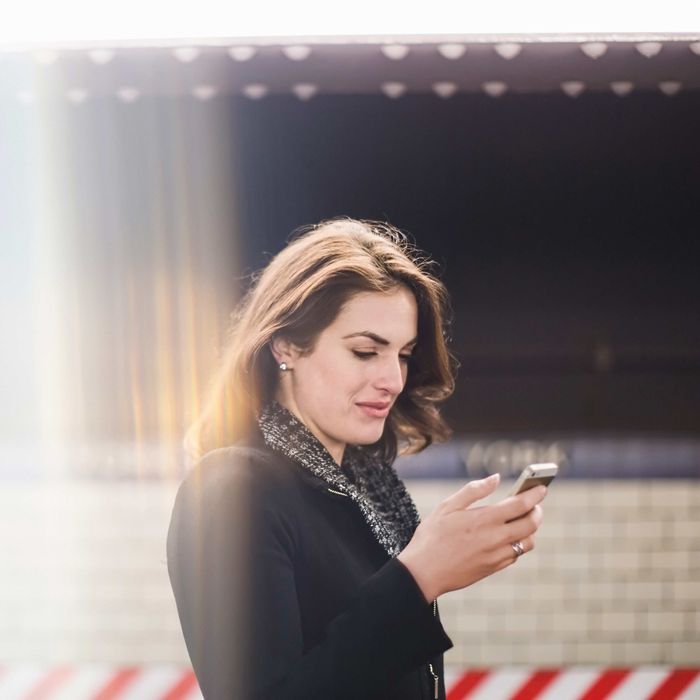 Photo: Chad Springer/Corbis
When Tinder first caught on, we believed it had solved online dating for women. The mobile app destigmatized meeting online — swipe with girlfriends at the bar! — while the double opt-in spared women inbox glut. (He can't talk to you unless you think he's cute.) Using Facebook to authenticate Tinder profiles protected users from scammers and predators. And women actually were users, unlike every other hookup app. Tinder was Good for Women.
One crucial party never said that Tinder was good for women, though: Tinder. Founders Sean Rad and Justin Mateen never gave any indication that being Good for Women was anywhere in their pitch deck. In interviews, the founders insisted Tinder would eradicate the discomfort of pursuing another person for any kind of relationship — dating, friendship, or business. Never mind that, when it comes to dating, the pursuit comes with a pre-existing gender power dynamic. And, given this week's sexual harassment and discrimination revelations, their insistence looks like a red flag we were all too willing to ignore.
Hypothetically, I suppose, Tinder could have just stumbled into a recipe for techno-utopian feminism. The app had plenty of fans eager to claim that its popularity with women had proven, once and for all, that women can enter casual arrangements just like men — the egalitarian promised land! But the company itself waved away such implications. In an interview with The Huffington Post, Mateen (who was suspended yesterday) was adamant that Tinder was not a hookup app. "Fundamentally women aren't wired that way, right?" he asked. "So even if we had tried to create it for that, it wouldn't have worked."
Mateen isn't necessarily right about women's wiring, but talk to people who use Tinder, and they'll agree that the app has mostly lowered the risks and maximized the efficiency of traditional gender roles in courtship. Men can approach women without seeming creepy. Women can enjoy the validation of male attention without leading them on. Both can do it all day long, with lots of different people.
Whether that's a good thing for women in general seems debatable. But we now know that Tinder was very bad for at least one woman: Whitney Wolfe. According to the co-founder and former VP's lawsuit, the better-known founders Rad and Mateen privately assured Wolfe, then 24, she was a co-founder while boxing her out of press coverage. "When she would ask why only her name of the five founders was absent they would tell her 'you're a girl,'" the complaint says. "Facebook and Snapchat don't have girl founders, it just makes it look like Tinder was some accident," Mateen said, according to the suit. He allegedly didn't want Wolfe listed as a co-founder of Tinder because her gender "devalues" the company and makes it look "like a joke." In a GQ profile of the company, Wolfe was cast as a former sorority girl who populated the app with her pretty, popular friends.
More important, though, Mateen's alleged treatment of Wolfe reveals a startling attitude toward the women who helped make the app such a success.  Mateen and Wolfe dated, and, in addition to thinking that a woman could devalue his app, he also seemed to think his app could devalue a woman. According to the complaint, he didn't want his girlfriend to be publicly associated with the company because, he said, "being a female co-founder of Tinder was 'slutty' because it is an app people use to 'hook up.'" Things naturally got worse after they broke up. He allegedly called her a whore and told her to be "'a good girl' and stay away from other men for a period of six months during which time he would evaluate her to determine whether she was 'worthy' of being with him, or whether she was the 'slut' that he considered her to be before she met him."
So Tinder was founded by a guy who both thinks women devalue his company and sex devalues women. He built a space where these women can act like men and he can disrespect them for it. As far as hookups go, I think women can do better.