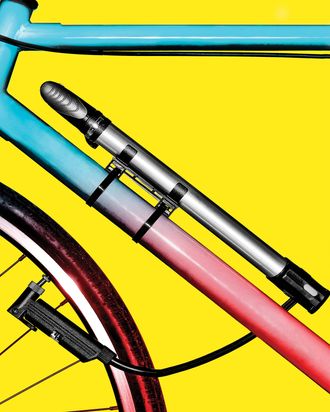 Photo: Bobby Doherty/New York Magazine
The goal: Find an on-the-go bike pump for predawn flats and peace of mind on your haul up to Nyack. We spoke to die-hard ­cyclists (many of whom work at the city's top bike shops). They steered us toward a barrel that's about a foot in length—still half the size of a traditional standing pump, but a couple inches longer than many portable models, providing just enough leverage for inflating curbside.

The Verdict: Topeak's aluminum Road Morph G ($50 at Bicycle Habitat, 244 Lafayette St., nr. Spring St.; 212-431-3315) has the sweet-spot measurements, fitting snugly below your crossbar. The built-in pressure gauge prevents overinflation and is suited to both road and mountain tires. And unlike typical handheld pumps, which require you to make a flimsy base with your nondominant palm, this one has a mini-footpad.
*This article appears in the July 28, 2014 issue of New York Magazine.