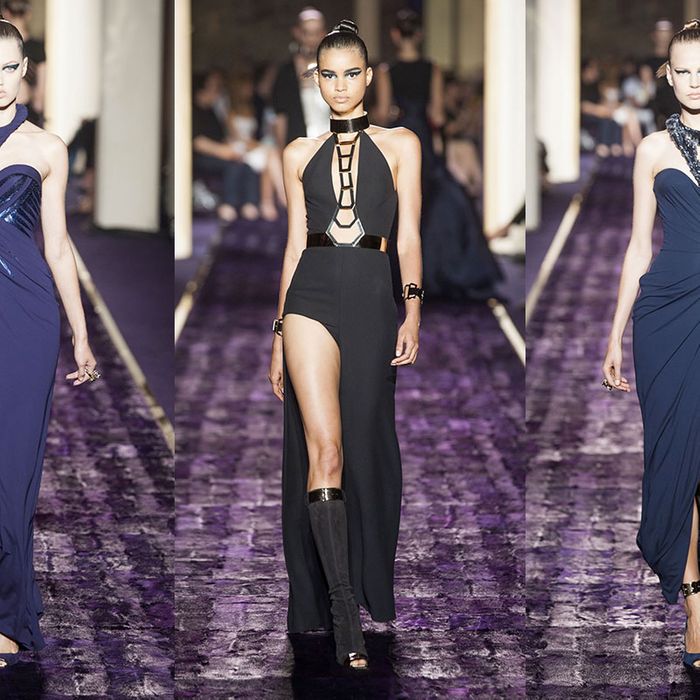 PARIS — We're only a day into the fall 2014 couture collections, and so far it's been a orgy of decadence — then again, this is haute couture, so why would we expect anything less? At Atelier Versace last night, Donatella Versace decked out her palatial venue like a Euro nightclub: Chandeliers sparkled like disco balls, and the runway was lined with deep-purple goat fur. Cue the arrival of J.Lo in a sprayed-on white jumpsuit-dress hybrid and some serious earrings, and the tone for the evening was set.
In fact, J.Lo's look was straight from the runway (before it was shown), and this style — an evening dress with a thigh-high split and one leg covered by a trouser — appeared in the collection in various incarnations. I'm not sure how one gets into the outfit, but on the runway it actually worked, allowing the wearer to confidently rock a crotch-high split (à la Angelia Jolie) without fear of complete exposure. Of course, this being Versace, the slits were not limited to the thigh, and fabric cutouts came on many styles, be it on the hip of a pair of tailored trousers or the cleavage of a fitted bodice.
The greatest feats in this collection, however, were the looks toward the end of the show, which, again, were a deconstruction of traditional eveningwear. Swarovski-encrusted bodysuits had Charles James-esque ball-gown skirts attached to them and a rose-colored silk gown worn by Daria Strokous was a particular masterpiece: It was all party on the front and business on the back.
Parisian interiors set the mood this morning at the Schiaparelli show as well: The salon was awash in the trademark "shocking pink" and leopard-print carpet covered the catwalk. This was Marco Zanini's (formally of Rochas) second outing for the couture house since its official relaunch in January this year, and he is clearly enjoying himself in the new role. This morning, each look in itself was a flamboyant work of art and Elsa Schiaparelli's surrealist aesthetic remained firmly in tact. As did her silhouettes: The exaggerated shoulder and the hourglass shape emphasized silk evening gowns.
But the most dazzling aspects of the show were hand-painted prints and appliqué motifs that truly captured the irreverence of the house of Schiaparelli. In her day, Elsa proposed a lobster-print dress (worn by royalty, no less) and that famous hat made in the shape of a shoe. Zanini's vision included a print with fox terriers, boxers, and poodles, and another called "Central Park" — which featured squirrels and rats. Schiaparelli would have loved that mix of high and low, eveningwear and vermin. Clearly, Zanini is up for the task, but it will be interesting to see if he plans on bringing a more contemporary vision to the house.