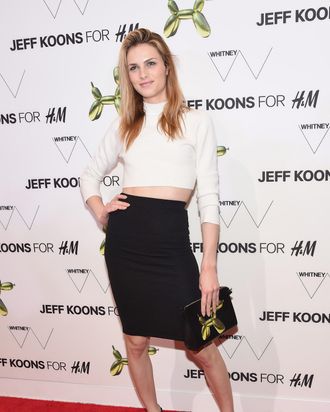 Photo: Gary Gershoff/Getty Images
The androgynous male model Andrej Pejic first came onto the scene in 2010 and was embraced by Jean Paul Gaultier, Carine Roitfeld, Juergen Teller, and scores of other fashion figures (she graced the cover of New York's fall fashion issue in 2011) but has been absent from the scene in recent months. Today, Style.com has a fascinating interview with the 22-year-old, who recently underwent sex reassignment surgery (SRS) and has made a legal name change to Andreja. She explains,
I figured out who I was very early on—actually, at the age of 13, with the help of the Internet—so I knew that a transition, becoming a woman, was always something I needed to do. But it wasn't possible at the time, and I put it off, and androgyny became a way of expressing my femininity without having to explain myself to people too much. Especially to my peers [who] couldn't understand things like "trans" and gender identity. And then obviously the modeling thing came up, and I became this androgynous male model, and that was a big part of my growing up and my self-discovery.
A beauty campaign is next on her wish list. Not to mention, Pejic already has a plum role in Sofia Coppola's live-action Little Mermaid, so we should be seeing plenty more of her in the near future.