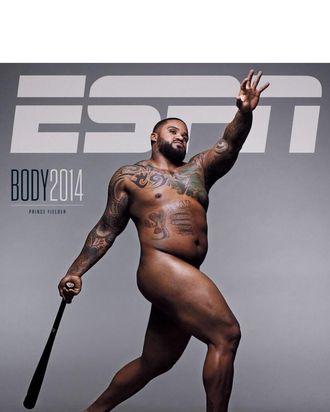 An early glimpse of ESPN's annual Body Issue — which comes out this Friday — reveals that Texas Rangers MLB star Prince Fielder is on one of the covers in his full naked glory. It took all of one day for the body-shaming to start, with Twitter commenters slamming ESPN for putting a "plus-size athlete" on the cover and mocking Fielder for his physique.
In the issue's interview, Fielder addressed his atypical athlete's body:
A lot of people probably think I'm not athletic or don't even try to work out or whatever, but I do. Just because you're big doesn't mean you can't be an athlete. And just because you work out doesn't mean you're going to have a 12-pack. I work out to make sure I can do my job to the best of my ability. Other than that, I'm not going up there trying to be a fitness model.
Kudos to ESPN for showing that athletes come in shapes and sizes other than "chiseled statue" — and, as Fielder's casual mention of deadlifting 1,000 pounds proves, reinforcing the idea that you don't need a six-pack to be a powerhouse.