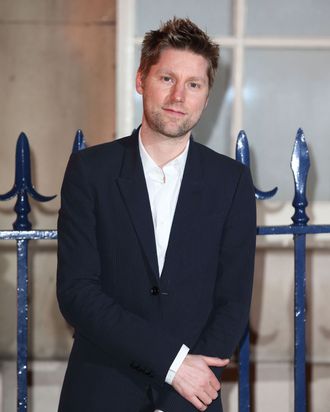 Photo: Mike Marsland/Getty Images
According to The Telegraph, Christopher Bailey pulled a "Big Yellow Taxi" at the most recent Burberry shareholders meeting — reminding them that "you don't know what you got 'til it's gone." (You could also call it a "modified LeBron.") Company chairman Sir John Peace told those at the meeting that Bailey had been offered a role at another brand midway through last year, but had turned it down.
Update: Here's the relevant portion from Peace's remarks, which Burberry released:
A year ago, we were faced with competing job offers for Christopher which were much higher than his existing package. The Board took the view that it was essential that we retain Christopher in the business, mindful of the huge value he has created and would create in the future as one of the world's leading fashion designers.
The paper speculates it was Louis Vuitton, since Marc Jacobs vacated his role as creative director there in September. Other guesses include Loewe and Mulberry, both of which had designer vacancies at the time.
Last October, after Angela Ahrendts departed to head up Apple, Bailey was appointed CEO of the brand (he's been Burberry's chief creative officer since 2009, and continues to hold that role, a highly unusual arrangement for the industry, and one that could have been spurred by his counteroffer).
Bailey has recently been fielding blowback for his $18 million pay package, which many shareholders think is too generous. The Business of Fashion reports today that 53 percent of shareholders voted against it, though the vote is not binding and likely won't affect anything. Naturally, the U.K. press is having a field day: "Come on Burberry, time for a reality check," from The Independent, is representative of a typical headline. If there's anything the Brits can't stand, it's a tall poppy.