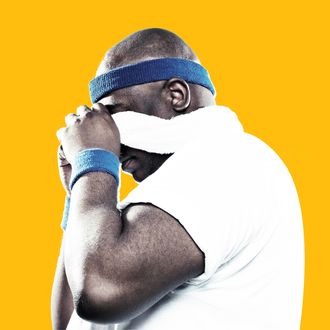 When it comes to losing weight, argue many people and weight-loss schemes, diet probably matters more than exercise. Yes, exercise is obviously important to your health for many reasons, but numbers-wise, diet probably matters a lot more if you're going to lose weight. It's simple math: One large muffin scarfed down in two minutes can easily contain calories you'd need to run for a full hour to burn off. But a new study in the American Journal of Medicine begs to differ. Over the 20 years, its authors argue, the United States has gotten a lot fatter without the average person eating significantly more calories. Exercise, then, is the primary culprit.
While increased caloric intake is often blamed for rising rates of obesity, no association between these was found in this study; in contrast, an association was found between the trends over time for lack of physical activity and high BMI numbers. "Our findings do not support the popular notion that the increase of obesity in the United States can be attributed primarily to sustained increase over time in the average daily caloric intake of Americans," concludes [lead author Uri] Ladabaum. "Although the overall trends in obesity in the United States are well appreciated and obesity prevalence may be stabilizing, our analyses highlight troublesome trends in younger adults, in women, and in abdominal obesity prevalence, as well as persistent racial/ethnic disparities."
The standard narrative, of course, is that we're eating more junk than ever and that's why we're getting fatter. The researchers didn't track exactly who ate what, but in addition to the lack of any difference in caloric intake, they also "observe[d] that total daily calorie, fat, carbohydrate, and protein consumption have not changed significantly over the last 20 years."
In an email to Science of Us, Ladabaum described as "dramatic" the downward shift in "the proportion of person self-reporting no leisure time physical activity" over the last two decades, and pointed out that these findings may highlight the need to emphasize exercise more in some public-health settings.
So you should probably help America fight 20 years of increasing laziness by going for a run later. (But also lay off the donuts.)