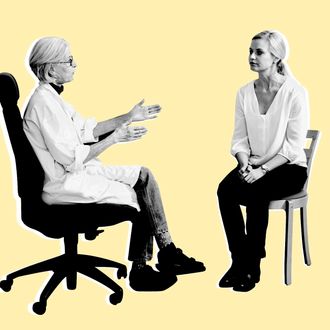 013930
Photo: B. BOISSONNET / BSIP/Corbis
On Monday, Slate ran a piece by Julie F. Kay and Michele Stranger Hunter in which the pair touted an Oregon initiative called One Key Question that seeks to ensure that during every visit to their doctors, women of childbearing age are asked, "Would you like to become pregnant in the next year?" The idea it that this question can steer women who do want a child toward the proper resources, and encourage those who don't or aren't sure to have a potentially important conversation about reproductive health.
I was curious about the behavioral aspect of One Key Question — why, exactly, is it better than the familiar status quo of doctors asking patients whether they are sexually active and taking the conversation from there? So I emailed Kay and Hunter —  whose employers, it should be said, funded and designed the program, respectively — to find out more.
"Your standard safe sex conversation talks at a woman about 'shoulds,'" explained Hunter in an email. "Our approach is the opposite. It is grounded in asking the woman what she wants. What are her goals for herself and her family? The surprising part is that this simple solution to an 'old' problem has not been done before. Ask the woman!" Framing things this way creates what Hunter called a "non-judgmental opportunity" to discuss potentially thorny issues pertaining to sex and family.
There are side benefits to opening up the conversation in this way, she argued. So far in the pilot program, about 30 percent of women have expressed ambivalence when asked about their reproductive intentions, and nudging along the conversation with these women has often revealed "other health issues that need to be addressed," including "mental health, intimate partner violence, and substance abuse." Presumably, this kind of stuff wouldn't be captured in the standard safe-sex conversation between a physician and his or her patient.
One Key Question certainly feels like a solid approach to reproductive health, but as with any behavioral intervention, it will be the numbers that determine whether it is in fact effective. The initiative is in the early phase of data collection, according to the Slate article, so we'll find out soon enough.