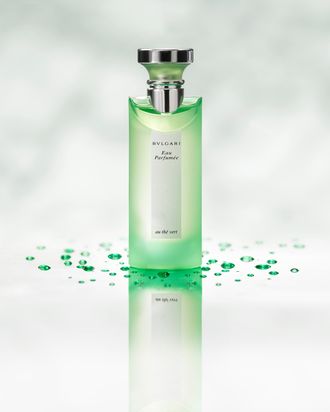 Photo: Courtesy of Bulgari
In 1995, in the suburbs of New Jersey, every mom seemed to smell the same. After-school tutoring and violin-lesson pick-ups all had the same eau de Elizabeth Arden Green Tea. My mom wore it. My childhood friend's mom wore it. I think my parent's entire Bible study wore it. Thanks to an Elizabeth Arden warehouse sale in central New Jersey, every tiger mom in a 30-minute radius of Livingston seemed to have made it her signature fragrance. Little did they know that in 1992, Bvlgari had released Eau Parfumee, an even better version of Elizabeth Arden's classic.
Recently, I came across this archived perfume and memories of carpooling and Bible camp all came rushing back to me. It certainly smells like a deep inhale at a cool tea house, but what makes this scent even better and more well-rounded are citrus notes of Italian bergamot, pepper, and orange blossom. It has a rich, luxury nose-feel and fullness that the Arden fragrance does not, combined with the cleanness of a soap. The note of luxury is no accident, as it was created by Jean-Claude Ellena, a perfumer little known at the time, who then went on to become the in-house perfumer for Hermès. It smells like childhood: tea-tinged nostalgia. This scent is like the whoosh of relief you get when stepping into an air-conditioned luxury vehicle on a hot summer's day.