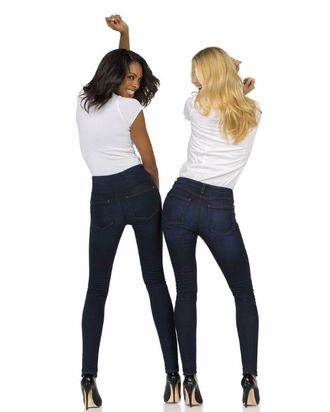 Spanx, noted purveyor of extra-extra-tight tights, has introduced Spanx jeans, which promise "thigh-trimming construction."
But do they work? wonders Robin Givhan at the Washington Post. She notes that the premise seems counterintuitive: Spanx's power is in its tight stretch, and if jeans are that elastic and body-hugging, don't they just become jeggings? What's more, having the Spanx brand tagging the back pocket of jeans is a bold admission that one did not wake up like this. Perhaps this is the dawn of slim-conscious women proudly displaying their panty-hose-inspired denim.
What's next for Spanx? What else can they make for us? Slimming scarves? Slenderizing socks. A skinny beanie to eliminate undesired scalp fat! Looking forward to it all.