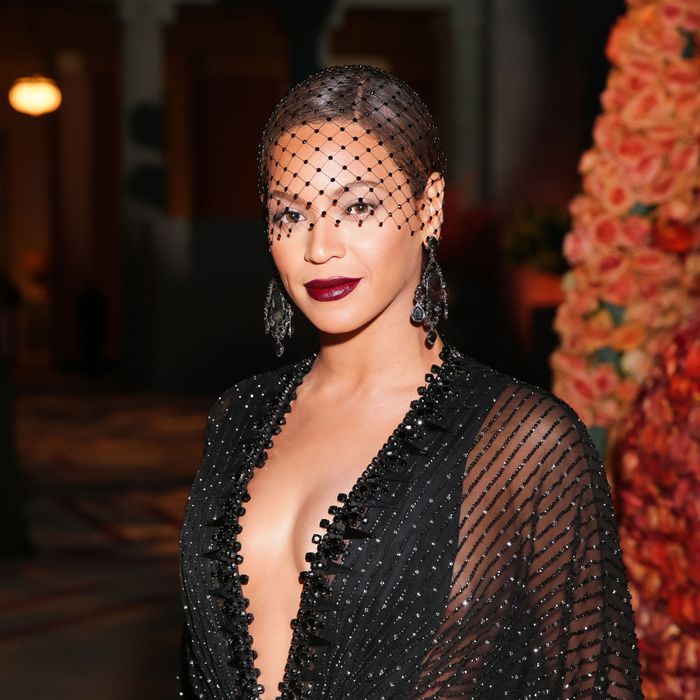 Photo: David X Prutting/BFAnyc.com/BFA NYC
Last week, the Rock and Roll Hall of Fame announced an exhibit dedicated to Beyoncé's iconic fashion. This week it's time to debate whether Beyoncé actually deserves the title of "fashion icon." Over at the New York Times, Vanessa Friedman argues that while Beyoncé is many things, she is not — and never has been — a fashion icon.
Friedman's overall argument is that while the Brand of Beyoncé holds sway in the music and business world, she "hasn't moved, or influenced, the direction of fashion writ large … " — and I'd have to disagree. She might not be a fashion icon in the rarefied CFDA-sense of the word, but in the spirit of Jackie O and Jane Birkin, she certainly embodies a forgotten definition of the concept: an Everywoman's style icon.
Friedman makes the good and totally valid point that one reason she isn't associated with certain brands is that she has carefully fostered her own brand and name — and lets no other brand eclipse her own:
"Beyoncé & Company have ensured that the only brand that really has any real staying power is brand Beyoncé; that everything she is selling comes back to her. Spreading the wealth, so to speak, among so many designers, which at first looks like an effort to woo the fashion world, actually works to create a situation in which no one name is permanently associated with her other than her own."
It's a good point — but, Friedman argues, the effect has, intentionally or not, knocked Beyoncé out of the running for fashion-icon status. She goes on to argue that Beyoncé isn't the face of ad campaigns for major fashion houses, like Rita Ora. She's not a CFDA darling like Rihanna. While she has relationships with designers like Tom Ford and Riccardo Tisci, it's not as intimate as, say, Kim Kardashian's, who jokes that Tisci is North's godfather. When Beyoncé wears an item of clothing or carries a bag, she writes, it hardly incites trend riots.
She says that Beyoncé "doesn't cause items to sell out overnight, like wee Prince George." But let's give her a little more credit. A Dolce & Gabanna dress sold out after she wore it to view the Kara Walker exhibit earlier this summer, as did this $140 Topshop dress. Her "Bonnie and Clyde"–era embrace of Manolo Blahnik's stiletto Timbs contributed to the shoe's popularity and the zillion sell-out, knockoff versions that followed. House of Dereon might have failed, but her collaboration with H&M was wildly successful (and was better received than Rihanna's River Island collection). While we're making this comparison, when is the last time Rihanna wore something that sold out overnight? And let's thank Bey for freakum dresses.
Unlike her contemporaries Rihanna and Lady Gaga, Beyoncé isn't dressing for spectacle. She's a woman who wears what she wants when she's not on a stage or a red carpet — it could be Balmain and Givenchy when the situation calls for it, but sometimes it's ASOS and Topshop. She doesn't regularly employ a stylist for her off-duty looks — though sometimes you see Solange's quirky influence. She presents herself as some (higher operating) form of the Everywoman, which means she's probably not going to wear a Meat dress to play with Blue Ivy at a park or casually bare her nipples walking down the street. That's fine: Gaga and Rihanna have that shtick covered.
It's a mistake to use the Hall of Fame's exhibit as the jumping off point for this conversation. Yes, the exhibit is centered around Beyoncé's "iconic" outfits, but it's a testament to her general icon status _ 2014 has been the year of Queen B., and the museum needed to pay homage to that somehow. Beyoncé fans (and haters) are more fascinated with her than ever — what she's doing, where she's traveling, and yes, what she's wearing.
Beyoncé isn't always "fashion forward" or experimental or cutting edge _ something we've come to expect from the Rihannas and the Gagas of the world — but to say she hasn't influenced fashion is shortsighted. The definition of "fashion icon" should stop being so narrow and as inaccessible as it is these days. It should be about more than just wearing the most avant-garde or fresh-off-the-runway looks. Because if you pay attention to the whole picture, not just the one painted with a rarefied brush, Beyoncé's fashion truly matters to people.
One only needs to look at the thousands of Instagram comments on those OOTD posts where women ask, "Hey, what is she wearing here?" to see how her style influences and intrigues other women. And what's more iconic than that?