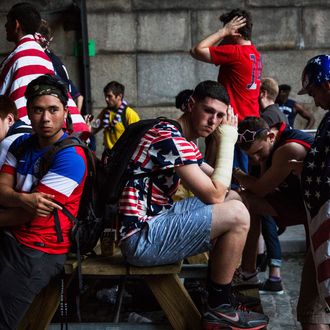 Photo: Andrew Burton/Getty Images
Yesterday's World Cup loss was a heart-stopping, heartbreaking one for fans of the U.S. men's team. The U.S. held on for so long against a clearly superior opponent, came so close with that chance at the end … it's painful to think about. I was curious whether Eric Simon, a journalist who wrote the book on the psychology of sports fandom, had any thoughts on how fans can successfully weather the emotional hangover from this loss.
His response was pretty upbeat. In an email, he made a surprisingly strong case that even though it hurts now, this could have been much worse:
I actually think the USMNT did the work for the fans of softening the blow. If you had to design a plan for them to lose to minimize trauma, that was perfect. Klinsmann and the draw set the expectations early on that we'd be lucky to get out of the group stage, so we were already playing with house money. Then Howard had his heroic performance against a clearly superior team, and there was the inevitable resignation at the end when Belgium finally got the goals that even the strictest partisans had to admit they deserved … and then that ferocious last few minutes where it really looked like the US might steal it out of sheer audacity. From an identity standpoint, it was perfect: America the scrappy, resilient underdog, battling courageously against the overwhelming favorite. (Probably all the more powerful for its nostalgia. I often think international soccer is so fun for Americans for the relief of being the underdog in something.)

So if expectations and identity govern the emotional impact of a win or loss, well, the team played those two psychological factors perfectly. When fans get past the initial disappointment – which I think they will, quickly – and think back on it, that was a successful game in a successful tournament. And a team to be proud of.

I mean, hey, we were in the World Cup longer than Spain, Italy and England.

Or, as a lot more people pointed out, two months to college football season.
As a Bostonian, I would like to point out that none of the softening factors mentioned by Simon apply to a certain game involving a certain football getting magically stuck to a certain helmet worn by a certain wide receiver (named David Tyree). So, soccer fans: At least this one probably won't still be haunting you more than a half-decade from now.