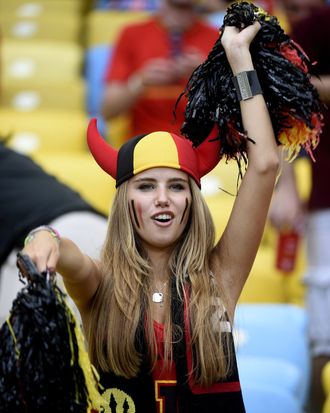 Photo: Martin Bureau/AFP/Getty Images
It's a tale as old as time. Pretty girl gets "discovered" in a mall, at Jamba Juice, or in the corn-fed fields of the Midwest. Or, in the case of one 17-year-old, cheering on Belgium during the World Cup while wearing devil ears and red and black face paint. Who said watching soccer wasn't rewarding?
The Telegraph reports that Axelle Despiegelaere, an attractive Belgian soccer fan, went instantly viral after photographers discovered her in the stands. Her Facebook account purportedly has 23,000 fans. Since Belgium had already been eliminated from the World Cup, L'Oréal Professional Belgique plucked the non-model out of the stands to star in a video for the brand. The video already has 500,000 likes after being posted yesterday. The French newspaper L'Express Styles confirmed that although Despiegelaere starred in the video, she has not been offered an official beauty contract. Still, she's already encountered the first rite of passage for a model: her first Facebook photo scandal.