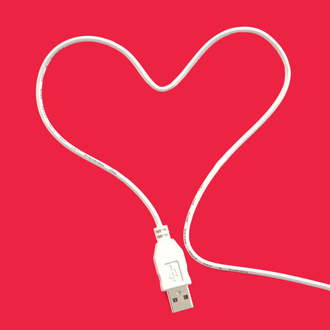 Photo: Wavebreakmedia Ltd
Matthew Kassel's New York Observer piece about his frustrations with online dating is sad, endearing, and very good. In short, he argues that OKCupid, Tinder, and their ilk encourage an endless series of first dates that don't really go anywhere. His complaint has merit that extends beyond his own experiences: Researchers generally think that online matchmaking algorithms do a poor job of determining who will be a compatible long-term pair.
Kassel touches on this a bit in a quote from a researcher.
"You really know nothing about a person when you arrange a first date with someone through an online source," said Harry Reis, a professor of relationship psychology at the University of Rochester. "Imagine if you were to pick names out of the telephone book and go on a first date. How many of those do you think you'd feel a sense of connection with? Probably very, very few."
At first glance, this doesn't make sense — of course online dating is less random than picking names out of a phone book. After all, it involves (in most cases) looking through someone's profile to make sure you have enough stuff in common, and/or sending a bunch of messages before agreeing to meet in person.
But as it turns out, the information gleaned from profile-perusing or chatting isn't actually all that predictive when it comes to long-term romantic prospects. Reis was on a team led by Eli Finkel that published a major review (PDF) of various online-dating platforms and their claims in 2011, and the researchers came away unimpressed:
[M]any aspects of online dating do not appear to improve romantic outcomes and might even undermine them. For example, the widespread emphasis on profiles as the first introduction to potential partners seems unfortunate in light of the disconnect between what people find attractive in a profile versus what they find attractive when meeting another person face-to-face, a problem exacerbated by comparing multiple profiles side-by-side. In addition, browsing many profiles fosters judgmental, assessment-oriented evaluations and can cognitively overwhelm users, two processes that can ultimately undermine romantic outcomes. Furthermore, it seems that the CMC [computer mediated communication — that is, messaging] available through online dating sites only increases attraction toward a potential partner if the duration of CMC is brief (a few weeks or less), and it can potentially undermine attraction if it yields unrealistic or overly particular expectations that will be disconfirmed upon a face-to-face meeting. Finally, despite grand claims to the contrary, it is unlikely that any matching algorithm based upon data collected before people have encountered each other can be effective at identifying partners who are compatible for a long-term relationship.
This doesn't mean online dating is useless. The researchers do highlight some positives, most notable among them the facts that it offers access to potential partners that real-life interaction might not, and that it can be a useful way of sifting out people who would definitely be bad matches.
Part of this, of course, comes down to what a given user is looking for. As Kassel tells it, those who are on dating websites in search not of lasting commitment, but simply "a good time," tend to have better luck:
The only ones who genuinely seem to enjoy serial courtship are the ones getting laid. "If you're going to have a negative attitude about it, you're not going to have fun, and if you're out there desperately looking for someone, you're shooting yourself in the foot," said a 31-year-old Brooklynite who works in renewable energy, goes on about two first dates a week and has a rotation of eight women he sees and sleeps with on a sporadic basis. 

"I was genuinely trying to meet people I'd click with and want to hang out with again," said an entrepreneur in his 30s. "But," he told me in a Facebook message, "I ended up having what would probably be considered a 'high quantity of sex' (at least according to my GP) as a side effect."
There appear to be pretty big individual differences in how much people like casual sex — Kassel says it simply isn't for him. So the sad irony here is that those who are pinning the most serious hopes on online dating may also be the most likely to come away disappointed.