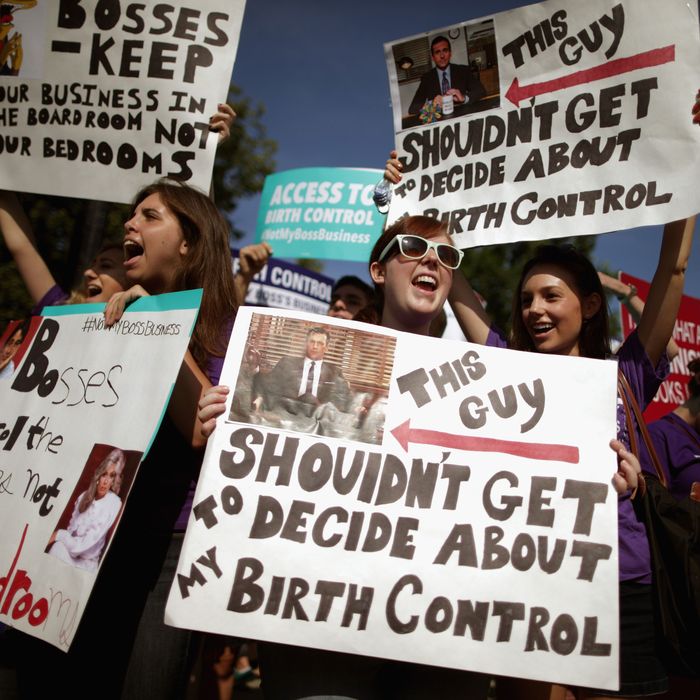 Photo: Chip Somodevilla/Getty Images
There are two competing narratives about the Hobby Lobby case and how big of a deal it is. To hear the all-male Supreme Court majority and many legal analysts tell it, this is a decision of limited scope. It will result in a minor inconvenience for a small number of women who work for certain employers or have certain insurance plans or wish to use certain forms of contraception. It may not even be about women at all — some observers say it's legal maneuvering designed to affect the status of corporations and the fight over Obamacare, not sexual politics.
Then there's my own interpretation, which is not that of a legal scholar but is shared by Justice Ruth Bader Ginsburg, who knows a few things about the law. It's most accurately expressed as an outraged scream, sort of a combination groan-wail, issued while beating my fists against the desk on either side of my laptop. A more articulate version goes like this: Hobby Lobby is actually a decision of "shocking breadth," a blow to reproductive rights, and a revelation of the total disregard that a majority of American lawmakers and legal power-brokers have for the lives of women.
Justice Samuel Alito's majority opinion, when it acknowledges that women exist, seems to ask, "Ladies, what are you getting so upset about?" Hey, he says, the government could provide birth control coverage — or hand out contraception directly. The thousands of women who work for Hobby Lobby could seek employment elsewhere, at a corporation headed by people who understand the medical science behind contraception. No one's taking their fundamental choice away.
This idea — that women can always find another way to get the coverage or care they need — underpins just about every recent restriction on women's health. What's another 24-hour mandatory abortion waiting period? To a woman who lives 25 miles from the nearest provider, it's everything. What's one more tweak to a law about the width of clinic doors? To a clinic that can't afford to remodel, it's everything. What's a minor policy change that means you have to pay full price for that IUD? To a woman who makes $14 an hour, it's everything.
A choice isn't really a choice when you can't find another job, or when it's the end of the month and the checking account is empty and the morning-after pill costs $50 without insurance, or when the only approved birth control methods won't work for you. For decades, activists have invoked a woman's "right to choose" — choose when it's the right time for her to have children and when it's not, and to choose which contraceptive method to use in the meantime. In theory, women are still allowed to make these choices in America. In practice, though, to choose you must have options. Health insurance is one of the things that guarantees options and access. Freedom, as the conservatives say, isn't free. For a choice to be a true choice and not a default, sometimes we have to subsidize it.
Yesterday, as Twitter erupted in the wake of the decision, conservative blogger Erick Erickson gleefully tweeted, "My religion trumps your 'right' to employer subsidized consequence free sex." Though we couldn't disagree more on the merits, no other tweet captured my feelings on the Hobby Lobby case so clearly. My rights feel very much scare-quoted — not rights at all, but a veneer of choice. The medical care that is critical to my ability to live and work — and, yeah, have consequence-free sex — was dismissed by the Supreme Court as relatively unimportant.
Erickson's use of the phrase "consequence free" was familiar. I heard variations on this theme many times over the course of my Catholic upbringing. "I'm pro-choice," my dad would say. "You have a choice whether or not to have sex. Then you have to deal with the consequences." Of course, unless you have no desire for sex or a strong desire for dozens of children, that's not a choice at all. Which is why socially conservative columnists like Ross Douthat beat the drum about the need to attach consequences to sex again. You made your bed, now lie in it. Ideally, with your husband and children.
This is at the heart of the Hobby Lobby case: Needing a blood transfusion or a vaccine, as the Court sees it, isn't the consequence of a "choice" you make. It is necessary medical care for you to live your life. You don't choose to need protection from an infectious disease. You don't choose to need a liter of new blood. You do, however, choose to have sex — if you're a woman. And so contraception, the majority of justices say, is different. The implication is that women can freely choose to either abstain from sex or have lots of children, which most of us understand is not a choice at all.
The Supreme Court's decision — and most reproductive-health restrictions passed by lawmakers across America over the past several decades — expresses the view that women make their choice when they choose sex, and it's up to them to figure it out after that. That there is no social or moral or governmental obligation to make it easier for them to make choices that follow from a perfectly human impulse to want sex but not babies. For women, sex is an option, an inessential luxury like LASIK eye surgery. Hey, the Court is saying, we're not telling you not to have sex! We're just telling you that if you do, you'll find it difficult to maintain a career, gain financial footing, or live a healthy life. You'll just have to work a little harder, it says. Find the loopholes. Drive a little farther. Pay a little more. You'll find a way — you women are resourceful.