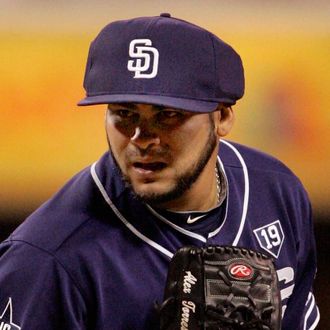 Photo: Kent Horner/Getty Images
Alex Torres, a relief pitcher for the San Diego Padres, may very well be forging a new path for Major League Baseball. He just happens to be doing so in an oddly shaped hat. This season, the league introduced the Isoblox, a padded cap for pitchers designed to protect them from brain injuries caused by line drives, which can rocket toward pitchers at up to 83 miles per hour. 
The trouble is, as the New York Times reports, that no one other than Torres is wearing these hats. The hesitation is understandable; I mean, look at the thing. But it's also quite sobering to realize how dearly we humans cling to our pride, even when it could cost us our safety. Because, as the Times notes, there have been some very serious, very recent examples of just how hazardous a line drive to the head can be:
An alarming number of major league pitchers have been hit in the head by batted balls in recent years. Two pitchers now with the Yankees, Brandon McCarthy and Hiroki Kuroda, have been hit in the head by line drives, with McCarthy undergoing emergency brain surgery after he was hit in 2012. Cincinnati Reds reliever Aroldis Chapman left the field on a stretcher after being hit in the face during spring training. He sustained fractures above his left eye and nose.
It's not clear exactly how much protection these padded caps might provide. Dr. Robert M. Friedlander, chairman of the department of neurological surgery at the University of Pittsburgh Medical Center, hasn't examined these caps in person, but he did say in an email to Science of Us that when it comes to protecting your skull from injury, any extra protection helps.
To understand some of the social psychology behind the resistance factor here, Science of Us reached out to Susan K. Whitbourne, who helped explain why baseball players (just like the rest of us) succumb to vanity:
Perhaps even more than in other sports, pitchers are highly visible on the playing field. This means they're on center stage, literally, for the cameras to feature their faces for a large portion of each game. Football players are a bit more anonymous, so they may not mind so much being covered in protective gear.

The other aspect of this story is that so many players have become the darlings of the media based not just on their play, but on their looks. If they don't look cool, they risk losing their following (and lucrative endorsements).

Finally, we know that bullying takes place in the locker room and it sounds like his teammates haven't hesitated to make fun of the padded cap.

I do think he's brave (and smart) to be protecting himself against head injury despite the social consequences he's faced so far.

From a social psychological point of view, we know that it only takes one person to start to break from conforming with the crowd. Torres is that guy, and if a few others join him, then it no longer will seem quite so ugly. 
After all, as Friedlander pointed out, seatbelts were once considered uncomfortable and uncool. "I'm sure that in a few years newer products will be more attractive and likely offer a greater degree of protection," he said. "It is a new era: We are more aware than ever of the harm that can occur when the head and brain are left unprotected while playing certain sports."
Yeah, okay. It's true. But that hat really is funny-looking.